Welcome to Turin, the enchanting city in northern Italy that perfectly embodies a harmonious blend of rich history and vibrant modernity. As you embark on your journey to this captivating destination, let's take a moment to discover the charm and convenience offered by the plethora of backpacker lodgings scattered throughout the city. These affordable accommodations, known as hostels or budget-friendly guesthouses, provide an excellent choice for travelers seeking not only cost-effective options but also opportunities to connect with like-minded explorers from around the globe.
Turin's hostels are strategically located within easy reach of major attractions and transportation hubs, ensuring that you can effortlessly immerse yourself in all that this remarkable city has to offer. Whether you prefer staying within walking distance of iconic landmarks such as the magnificent Mole Antonelliana or relishing in Turin's renowned café culture at Piazza San Carlo, there is a hostel suited perfectly to your preferences. Embrace diversity as you interact with fellow adventurers and share travel tales over communal dinners or rooftop terrace gatherings – fostering unforgettable memories with newfound friends from various corners of the world.
So pack your curiosity, throw on a comfortable pair of shoes, and get ready to delve into an extraordinary adventure where budget-friendly comfort meets unparalleled exploration opportunities. Join us as we uncover Turin's best-kept secrets through its thriving hostel scene – each one waiting eagerly to become your home away from home while experiencing all that this Italian gem has in store for you.
Best Turin Hostels
Combo Torino
Combo Torino is a hotel in Turin that offers comfortable air-conditioned rooms and dormitories. It is conveniently located just 350 meters from Turin Royal Palace and 1 km from Mole Antonelliana. Each room or dormitory comes with air conditioning and free WiFi, ensuring a pleasant stay for guests. The hostel also features spacious communal areas including a shared kitchen, laundry room, and luggage storage facilities. Guests can enjoy breakfast at the bar before exploring the city. Combo Torino is situated 2 km from Torino Porta Susa Train Station and 14 km from Turin Airport, making it easily accessible for travelers. Please note that different cancellation policies may apply for bookings of more than 12 people and/or 4 rooms.
Pros:
– Convenient central location near major tourist attractions
– Comfortable air-conditioned rooms with free WiFi
– Spacious communal areas including a shared kitchen and laundry room
– Breakfast available at the onsite bar
– Easy access to public transportation options
Ostello Alfieri 2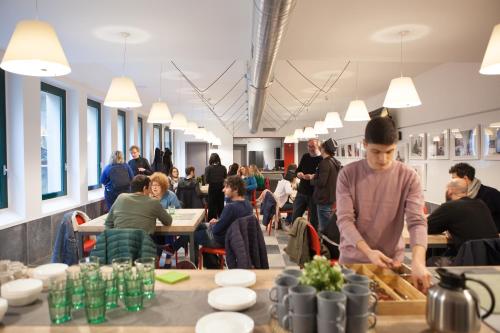 Located in Turin, Ostello Alfieri 2 offers a range of amenities such as a garden, shared lounge, bar, and free WiFi throughout the property. The hostel is conveniently situated within close proximity to several attractions and transportation options. It is just 1.7 km away from the Polytechnic University of Turin, 3.1 km from Porta Susa Train Station, and 3.6 km from Porta Nuova Metro Station. Additionally, both Porta Nuova Railway Station and Lingotto Metro Station are easily accessible at distances of 3.6 km and 5 km respectively. The rooms at Ostello Alfieri 2 feature air conditioning and private bathrooms for added comfort. For those looking to explore further afield, Mole Antonelliana is located 6.2 km away while Allianz Juventus Stadium can be reached in just 6.6 km distance. Travelers will also appreciate the hostel's proximity to Torino Airport which is only 19 km away.
– Convenient location near various attractions
– Free WiFi throughout the property
– Air-conditioned rooms for extra comfort
– Private bathrooms included with each room
– Welcoming garden area for relaxation
Ostello Torino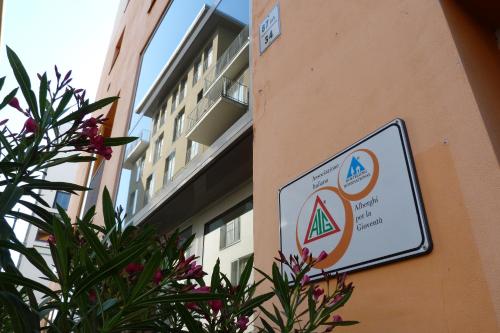 Located in Turin, Ostello Torino is a budget-friendly hostel that offers comfortable rooms and dormitories. The hostel features a charming garden and terrace where guests can relax and unwind. Free WiFi is available in public areas, ensuring that guests stay connected throughout their stay. Additionally, there is a shared lounge where travelers can socialize with fellow guests. Each room at Ostello Torino comes with either a private or shared bathroom equipped with a shower. Conveniently situated, the hostel is just 550 meters away from Torino Lingotto Train Station, making it easily accessible for travelers arriving by train. Furthermore, the Lingotto Fiere fair center is less than 15 minutes on foot from the hostel.
Pros:
– Budget-friendly accommodation
– Charming garden and terrace
– Free WiFi in public areas
– Shared lounge for socializing
– Close proximity to Torino Lingotto Train Station and Lingotto Fiere fair centre
Other places to stay in Turin
Family Friendly Hostels
Family friendly hostels are a great option for travelers looking to explore the world with their loved ones on a budget. These accommodations offer comfortable and affordable stays, with various room options to accommodate families of all sizes. With communal spaces designed for socializing and activities suitable for all ages, family friendly hostels provide an inclusive environment where children can interact with other young travelers while parents can relax and connect with like-minded individuals. With their convenient locations and welcoming atmosphere, family friendly hostels ensure that everyone in the family has a memorable and enjoyable experience during their travels.
Open011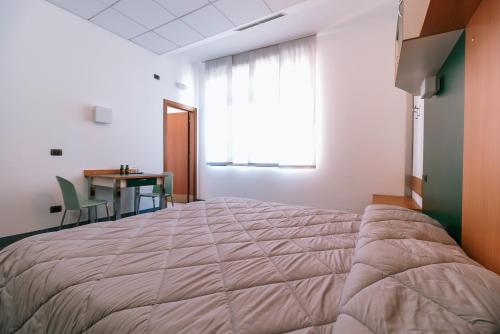 Open011 is a conveniently located hostel in Turin, just a 5-minute walk from Dora Train Station which provides direct links to Caselle Airport. The hostel offers functional rooms and free street parking for guests. For meals, there is a self-service restaurant at Open011 that serves lunch and dinner upon request. Breakfast includes a variety of options such as juices, hot drinks, cereal, and chocolate spread. Additionally, the hostel is well-connected to public transportation with Porta Susa Train Station being only a 10-minute bus ride away. Furthermore, sports enthusiasts will be delighted to know that Juventus Stadium is just 3.6 km away from the hostel.
Pros:
– Convenient location near Dora Train Station with direct links to Caselle Airport
– Functional rooms available
– Free street parking provided for guests
– Self-service restaurant offering lunch and dinner on request
– Close proximity to Porta Susa Train Station and Juventus Stadium
Bamboo Eco Hostel
Bamboo Eco Hostel, located in Turin, offers colourful rooms with private balconies and free Wi-Fi. Situated approximately 1.5 km from the historic centre, the hostel is conveniently located just 20 metres away from a bus stop that provides easy access to Turin's city centre. Guests can also enjoy the communal lounge and shared kitchen facilities available on-site. With Porta Nuova Train Station only 3 km away, Bamboo Eco Hostel is an ideal choice for travellers seeking comfortable and affordable accommodations.
– Free Wi-Fi
– Private balconies in every room
– Convenient location near bus stop for easy transportation
– Communal lounge for socializing with other guests
– Shared kitchen facilities for self-catering options
Information about Hostels in Turin
| | |
| --- | --- |
| 🏢 Number of Hostels in Turin | 5 |
| 🥇 Average Review Score | 8/10 |
| 💰 High season average price | 900 |
| 💸 Low season average price | 225 |
FAQ
What are the best hostels in Turin?
Turin offers a wide range of excellent hostels for budget travelers. Some of the top-rated options include Ostello Torino, Urban Hostel & Apartments, and Open 011 Hostel. These hostels provide comfortable accommodations at affordable prices and are known for their friendly staff, clean facilities, and convenient locations.
How much does it cost to stay in a hostel in Turin?
The cost of staying in a hostel in Turin can vary depending on factors such as location, season, and the type of room you choose. On average, you can expect to pay around €20-€40 per night for a bed in a shared dormitory room. Private rooms are also available at higher rates starting from around €50-€80 per night.
Are hostels safe in Turin?
Yes, hostels in Turin are generally considered safe for travelers. Most hostels have security measures such as key card access or lockers to ensure the safety of guests' belongings. However, it is always advisable to take necessary precautions like keeping your valuables locked away and being aware of your surroundings while staying at any accommodation.
Do hostels provide meals in Turin?
While some hostels may offer breakfast or other meals as part of their services, most basic hostel accommodations do not include meals. However, many hostels have communal kitchens where you can cook your own food if you prefer self-catering options. Additionally, there are plenty of affordable local eateries and cafes nearby where you can enjoy delicious Italian cuisine.
Can I book a private room at a hostel in Turin?
Yes, most hostels in Turin offer private rooms along with dormitory-style accommodations. These private rooms come with varying configurations such as single beds or double beds and may have ensuite or shared bathrooms depending on the hostel's facilities. Booking a private room in a hostel can be a great option for couples or travelers who prefer more privacy during their stay.
Popular Hostels destinations