Welcome to Guadalajara, Mexico's cultural haven and home to a vibrant hostel scene. If you're seeking an authentic travel experience without breaking the bank, look no further than the hostels scattered throughout this enchanting city. With their affordable rates and lively atmospheres, these budget-friendly accommodations provide the perfect base for exploring everything Guadalajara has to offer.
From historic architecture to contemporary art galleries, Guadalajara is a treasure trove of Mexican culture. And what better way to immerse yourself in this cultural mecca than by staying in a hostel? These cozy establishments bring together travelers from all walks of life, fostering a sense of community and adventure. Whether you're sharing stories over breakfast or joining fellow backpackers on city tours, hostels create an environment that encourages connections and lifelong friendships.
So whether you're a solo traveler looking for companionship or a group of friends seeking an affordable getaway, Guadalajara's hostels are waiting to welcome you with open arms. Get ready for an unforgettable experience filled with new friends, exciting adventures, and a taste of true Mexican hospitality.
Best Guadalajara Hostels
BOHOSTEL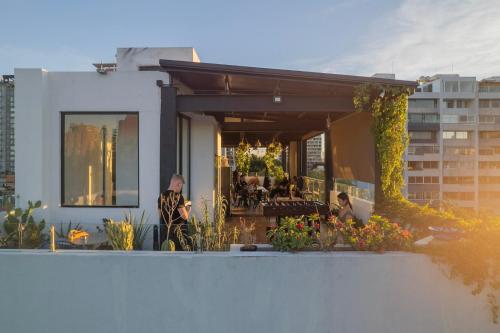 BOHOSTEL, located in Guadalajara, offers a comfortable and convenient stay for travelers. The hostel is situated within close proximity to popular attractions such as Expiatorio Temple and Guadalajara Cathedral. Guests can enjoy the peaceful garden and make use of the free WiFi and complimentary private parking. The property also features family rooms and a terrace for guests to relax and unwind. Additional amenities include a shared kitchen, tour desk, and currency exchange services. For those traveling by air, Guadalajara Airport is just 21 km away.
– Convenient location near popular attractions
– Peaceful garden for relaxation
– Free WiFi and complimentary private parking
– Family rooms available
– Shared kitchen for guest use
Hostel Hospedarte Chapultepec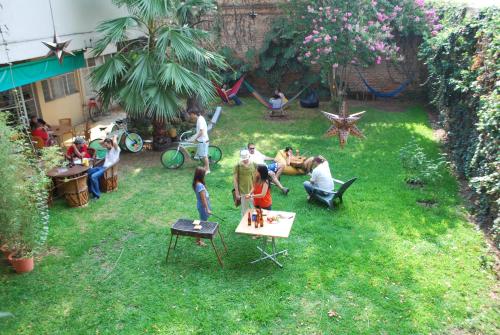 Hostel Hospedarte Chapultepec is a charming hostel located just 3 km from the historic center of Guadalajara and 50 meters from the iconic Chapultepec Avenue. This hostel offers budget beds in shared rooms, making it an ideal choice for backpackers and travelers on a budget. The rooms are tastefully decorated with modern décor and feature artwork on the walls, as well as cable TV and private bathrooms with showers.
One of the standout features of this hostel is its extensive garden area, complete with hammocks, where guests can relax and unwind. There is also a roof terrace that offers stunning views of the city skyline. Guests can make use of the fully equipped shared kitchen to prepare their own meals or head out to one of the many restaurants located within 100 meters of the hostel.
Continental breakfast is included in all room rates, and free WiFi is available throughout the property. For those looking to explore Guadalajara's attractions, Hostel Hospedarte Chapultepec is conveniently situated just a 10-minute drive from Guadalajara Cathedral and Museum de la Ciudad museum. The famous Degollado Theatre is also only 3 km away.
The Miguel Hidalgo International Airport can be reached in just 30 minutes by car, making it easy for travelers to access this vibrant city. The friendly staff at the tour desk are always ready to assist guests in organizing various activities, including tours of Guadalajara's historic landmarks.
– Extensive garden area with hammocks
– Roof terrace with stunning city views
– Fully equipped shared kitchen for guest use
– Complimentary continental breakfast included
– Convenient location near restaurants and popular attractions
Olga Querida B&B Hostal
Olga Querida B&B Hostal is a charming guest house located in Guadalajara, Mexico. It offers spacious rooms and dormitories with a ceiling fan, along with a 24-hour reception and free Wi-Fi. The guest house is conveniently situated just a 10-minute walk away from Plaza de Armas Square and Guadalajara Cathedral.
The dorms at Olga Querida B&B Hostal are airy and provide storage lockers, sheets, and towels for guests. Private rooms feature an en-suite bathroom and access to a courtyard seating area. Guests can enjoy a daily continental breakfast served in the lounge or outside on the terrace. There is also a shared kitchen available for those who prefer to prepare their own meals.
With its close proximity to Nuestra Señora del Carmen Sanctuary (just 150 meters away) and Juarez Metro Station (3 blocks away), guests have easy access to popular attractions in the city. The friendly staff at the reception desk are fluent in both Spanish and English, providing helpful information about the city.
Pros:
– Free Wi-Fi
– 24-hour reception
– Spacious rooms and dormitories with ceiling fans
– Continental breakfast included
– Convenient location near popular landmarks
Other places to stay in Guadalajara
Family Friendly Hostels
Family Friendly Hostels offer a warm and welcoming atmosphere for travelers with children, providing a comfortable and affordable accommodation option. These hostels go above and beyond to cater to families, ensuring that both parents and kids have an enjoyable stay. With spacious family rooms or interconnected dormitories available, they provide the perfect space for families to relax and spend quality time together. Family-friendly hostels often have amenities such as play areas or game rooms to keep the little ones entertained, as well as facilities like kitchenettes or dining areas where families can prepare and enjoy meals together. The staff at these hostels are also knowledgeable about family-friendly activities in the area, offering recommendations on nearby parks, attractions, or events suitable for all ages. When choosing a family-friendly hostel, parents can rest assured that their needs will be met so they can focus on creating lasting memories with their loved ones while exploring new destinations.
Hostal Tlaquepaque
Situated in Guadalajara, Hostal Tlaquepaque offers comfortable accommodation with a garden and free WiFi throughout the property. The hostel is conveniently located within close proximity to popular attractions such as Jose Cuervo Express Train and Cabanas Cultural Institute. With family rooms available, guests can enjoy a continental breakfast and have access to helpful information at the reception to make their stay even more enjoyable. Additionally, Guadalajara Cathedral, Expiatorio Temple, and Jalisco Stadium are just a short distance away. For those looking to explore further, Guadalajara Zoo is 12 km from the hostel while Tlaquepaque Regional Ceramic Museum is only 600 meters away. The nearest airport is Guadalajara Airport, just 13 km from Hostal Tlaquepaque.
Pros:
– Convenient location near various attractions
– Family rooms available
– Free WiFi throughout the property
– Continental breakfast provided
– Helpful reception staff for area information
Hostel Hospedarte Centro
Hostel Hospedarte Centro is a conveniently located hostel in the heart of Guadalajara's historic center. Just a short 3-minute walk from the Cathedral and Plaza de Armas Square, this hostel offers modern private rooms and shared dormitories with free Wi-Fi. The dorms are equipped with individual lockers, fans, and even balconies. Some private rooms also feature a private bathroom and cable TV. Bed linen, towels, and cleaning service are provided, and guests have access to shared bathrooms.
The hostel offers a daily continental breakfast as well as a shared kitchen for guests to prepare their own meals. There is also a TV lounge with a pool table, sofas, and hammocks for relaxation. The friendly staff at Hostel Hospedarte Centro are available to provide city maps and information about the area.
In addition to its comfortable amenities, the hostel organizes various activities such as pub crawls, tequila nights, and visits to watch lucha libre wrestling at the nearby Coliseo Arena. For those interested in exploring beyond Guadalajara, there are daily tours available to Tequila town and Chapala Lake.
– Convenient location in Guadalajara's historic center
– Free Wi-Fi
– Private rooms with ensuite options
– Daily continental breakfast included
– Organized activities like pub crawls and tequila nights
Information about Hostels in Guadalajara
| | |
| --- | --- |
| 🏢 Number of Hostels in Guadalajara | 5 |
| 🥇 Average Review Score | 8.9/10 |
| 💰 High season average price | 592 |
| 💸 Low season average price | 148 |
FAQ
1
What is the average cost of staying in a hostel in Guadalajara?
The average cost of staying in a hostel in Guadalajara is around $10 to $20 per night. This price may vary depending on the location, facilities, and season. However, hostels offer budget-friendly options for travelers who are looking to save money on accommodation while exploring the city.
2
Can I book a private room in a hostel in Guadalajara?
Yes, many hostels in Guadalajara offer private rooms as an option for guests. These rooms provide more privacy and comfort compared to dormitory-style accommodations. Private rooms often come with en-suite bathrooms and amenities such as air conditioning or TV. It's recommended to check the availability and prices beforehand as they might be slightly higher than shared dorms.
3
Are there any age restrictions for staying at hostels in Guadalajara?
While some hostels may have age restrictions, most do not impose any specific age limits. Hostels are known for their inclusivity and welcoming atmosphere towards all types of travelers regardless of their age. Whether you're a solo backpacker or traveling with friends or family, there will likely be hostels that cater to your needs.
4
Do hostels provide any amenities or services besides accommodation?
Yes, hostels usually offer various amenities and services besides providing accommodation. Common facilities include communal kitchens where guests can cook their meals, common areas to socialize with fellow travelers, free Wi-Fi access throughout the property, laundry facilities, luggage storage options, and sometimes even organized activities such as city tours or pub crawls.
5
Is it safe to stay at a hostel in Guadalajara?
Generally speaking, staying at a hostel in Guadalajara is safe if you take necessary precautions like anywhere else you travel. Most hostels prioritize security by having key card access systems for entry, lockers to store valuables, and 24-hour front desk staff who can assist with any concerns. However, it's always a good idea to use common sense, keep an eye on your belongings, and follow the hostel's safety guidelines.
Popular Hostels destinations