Welcome, fellow adventurers! Today, let's embark on an exciting journey through the vibrant and awe-inspiring city of Budapest, Hungary. Nestled along the banks of the Danube River, this enchanting destination is renowned for its rich history, stunning architecture, and bustling nightlife. As we delve into the heart of this captivating city, we'll explore a budget-friendly accommodation option that offers not only a place to rest your weary heads but also unique opportunities to connect with like-minded travelers from around the globe – welcome to our exploration of hostels in Budapest.
Budapest is a paradise for backpackers seeking immersive experiences without breaking the bank. Hostels in this marvelous city go beyond being mere accommodations; they serve as vibrant hubs where wanderlust souls gather to share stories, forge new friendships, and create unforgettable memories. These havens of camaraderie offer an authentic taste of local culture and provide cozy spaces that foster a sense of community among guests hailing from diverse backgrounds. Whether you're traveling solo or in a group, staying at a hostel in Budapest guarantees an unparalleled experience characterized by affordability and excitement.
Best Budapest Hostels
Onefam Budapest by Hostel One
Onefam Budapest by Hostel One is a conveniently located hostel in Budapest, just 300 meters from the Deák Ferenc Tér stop. This transportation hub connects to three metro lines as well as bus and tram lines, making it easy to explore the city. The hostel offers free WiFi throughout the property and has computers available in the lobby for guest use. Their 24-hour reception can also assist with booking tickets for attractions and events around town. The hostel organizes free daytime activities and evening events, providing opportunities to socialize and meet other travelers. On-site, there is a bar serving drinks, while restaurants, shops, ruin pubs, and bars are all within walking distance. Each guest has access to lockers for their belongings and bed linen is provided. The bathroom facilities are shared among guests but kept clean and tidy. For those traveling by car, public parking is available at an additional cost on the premises. With its central location, proximity to popular landmarks such as the Dohány Street Synagogue (2 minutes on foot) and St. Stephen's Basilica (600 meters away), Onefam Budapest by Hostel One is an excellent choice for budget-conscious travelers looking for a comfortable stay with convenient amenities.
Pros:
– Convenient location near public transportation
– Free WiFi throughout the property
– Organized daytime activities and evening events
– On-site bar serving drinks
– Proximity to restaurants, shops, ruin pubs, bars
NETIZEN Budapest Centre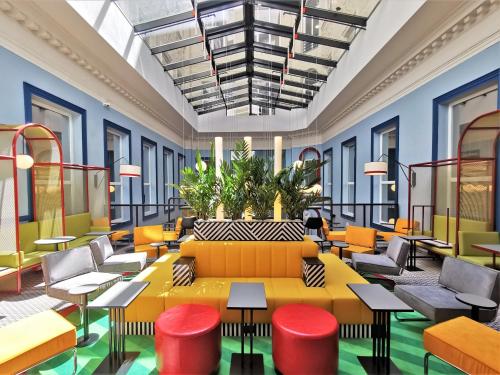 NETIZEN Budapest Centre is a conveniently located hostel in Budapest that offers air-conditioned rooms, free WiFi, and a shared lounge. The hostel also features a restaurant and a bar, making it easy for guests to relax and socialize. Its central location allows visitors to easily explore popular attractions such as Blaha Lujza Square, Dohany Street Synagogue, and Keleti Pályaudvar Metro Station. With its 24-hour front desk and luggage storage facilities, NETIZEN Budapest Centre ensures that guests have all they need for a comfortable stay. The hostel also offers a buffet breakfast for guests to start their day off right.
Zen Hostel by Central Market
Located in the vibrant 05. Belváros – Lipótváros district of Budapest, Zen Hostel by Central Market is a great choice for travelers looking to explore the city. The hostel is conveniently situated just 13 meters from the Great Market Hall and less than 1 km from the famous Gellért Thermal Baths. Additionally, it's only a short 15-minute walk to the Hungarian National Museum. For those looking to explore further, Chain Bridge is just 1.9 km away and Citadella can be reached within a 1.2 km stroll.
Zen Hostel offers a range of amenities for guests to enjoy during their stay. The property boasts a terrace where visitors can relax and take in views of the surrounding area. Inside, there is also a shared kitchen and lounge area available for guests' use. Throughout the hostel, free WiFi is provided, ensuring that travelers can stay connected throughout their time in Budapest.
For those interested in exploring the city's cultural landmarks, Dohany Street Synagogue is located just 1.1 km from Zen Hostel by Central Market and Budapest History Museum is only 2.4 km away. Furthermore, with Budapest Ferenc Liszt International Airport situated just 21 km from the accommodation, it's easy to reach for both domestic and international travelers.
Pros:
– Convenient location near popular attractions such as Great Market Hall and Gellért Thermal Baths
– Shared kitchen and lounge facilities available
– Free WiFi throughout the property
– Terrace offering pleasant views
– Easy access to public transportation options
Other places to stay in Budapest
Family Friendly Hostels
Family Friendly Hostels offer a convenient and affordable option for families looking to explore new destinations. These hostels provide comfortable and spacious rooms that can accommodate multiple guests, including children. With a range of amenities such as communal kitchens, play areas, and family-friendly activities, these hostels ensure that both parents and kids have an enjoyable stay. Additionally, the friendly staff are always ready to assist with any special requests or recommendations for family-friendly attractions in the area. By staying at a family-friendly hostel, families can create memorable experiences while sticking to their budget.
Pesto Hostel
Located in the heart of downtown Budapest, Pesto Hostel offers a cosy and comfortable stay for travelers. Renovated in 2014, this hostel is conveniently situated just 500 meters from the banks of the Danube River, making it a great base for exploring the city. The hostel is housed in a traditional town house and features spacious rooms with free Wi-Fi. With Ferenciek Tere Metro Station just 150 meters away, guests have easy access to Budapest Castle which can be reached in a 15-minute tram ride. The bright and airy bedrooms at Pesto Hostel boast bare wooden floors and colorful linens. Ironing facilities are available in all rooms, while shared bathrooms are plentiful throughout the property. For those who prefer to cook their own meals, there is a shared kitchen and dining room available for self-catering guests. Additionally, breakfast can be requested upon arrival. Guests will find plenty of attractions within walking distance including Rudas Thermal Bath which is just a 10-minute walk away, as well as Great Market Hall located 600 meters from the hostel.
Pros:
– Central location in downtown Budapest
– Renovated and cozy atmosphere
– Spacious rooms with free Wi-Fi
– Shared kitchen and dining room for self-catering guests
– Attractions such as Rudas Thermal Bath and Great Market Hall within walking distance
Island Hostel Budapest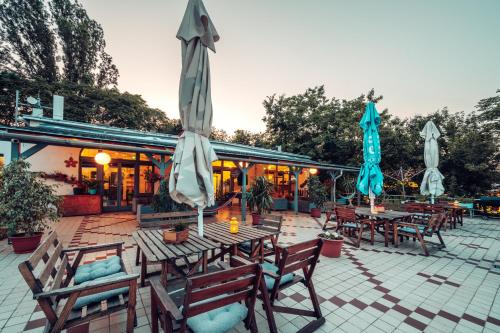 Island Hostel Budapest is a vibrant and lively hostel situated on the car-free Margaret Island, surrounded by beautiful nature. With its cheerful atmosphere, guests can make pleasant memories on the comfortable 200 m2 terrace, offering stunning views of the Danube and Parliament building. The Palatinus Beach is conveniently located just 200 meters from the hostel. For easy access to explore the city, guests can walk to the tram stop for trams 4 and 6 which run through Budapest. The hostel features a fully equipped common kitchen for guests who enjoy cooking or baking. Free Wi-Fi is available throughout the building. The rooms are functional and come with private bathrooms, while dormitories offer shared bathroom facilities. Most rooms also provide USB charging facilities and reading lights for added convenience. In addition to its great location near popular attractions such as the Parliament building and Buda Castle, public parking is available within a 15-minute walk from the accommodation.
– Cheerful atmosphere
– Comfortable terrace with stunning views
– Conveniently located near Palatinus Beach
– Fully equipped common kitchen
– Free Wi-Fi throughout
Lavender Circus Hostel
Located in the heart of Budapest, Lavender Circus Hostel is the perfect place to stay for travelers looking to explore all that the city has to offer. Situated opposite the Hungarian National Museum and just steps away from Kálvin Tér transportation hub, guests have easy access to multiple metro lines, tram and bus routes. The hostel offers comfortable and stylishly decorated units with free WiFi. Some rooms have private bathrooms while others feature shared bathroom facilities. Guests can also take advantage of kitchenette amenities or use the shared kitchen available on site. With popular attractions such as Károlyi Kert park, Váci Utca shopping street, Ráday Utca nightlife area, and the Great Market Hall within walking distance, there is no shortage of things to do and see nearby.
– Centrally located with convenient transportation options
– Free WiFi throughout the property
– Comfortable and stylishly decorated units
– Option for private or shared bathroom facilities
– Accessible to popular attractions and vibrant nightlife areas
Cheap Hostels in Budapest
Budapest, the vibrant capital of Hungary, is known for its rich history, stunning architecture, and affordable accommodations. Cheap hostels in Budapest offer budget travelers a comfortable and convenient place to stay while exploring this beautiful city. With their central locations and basic amenities, these hostels provide a great option for those looking to save money without compromising on quality. Whether it's meeting fellow travelers in communal areas or taking advantage of the hostel's organized activities, staying in a cheap hostel in Budapest guarantees an immersive experience that allows guests to fully embrace the local culture while keeping expenses low.
Shantee House
Shantee House is a budget-friendly hostel located in the quiet 11th district of Budapest. It offers dormitory rooms with free WiFi and a cozy garden, providing guests with a tranquil environment. The hostel provides various amenities including a common room with satellite TV, a safety deposit box, 24-hour front desk service, laundry facilities, and a fully equipped kitchen. Additionally, guests have the opportunity to relax in the garden hammock and can rent bicycles and skateboards on-site. Conveniently situated near tram and bus stops, Shantee House allows for easy access to shops, restaurants, supermarkets within a 10-minute walk as well as popular tourist destinations such as Kosztolányi Dezső Square (850 meters), Gellért Bath and the Danube riverbank (2.5 km), and Buda Castle (3.5 km). For further convenience, the Tétényi Street bus stop is only 400 meters away.
– Dormitory rooms available
– Free WiFi
– Quiet location in the 11th district
– Access to garden with hammock
– Bike and skateboard rental on-site
Information about Hostels in Budapest
| | |
| --- | --- |
| 🏢 Number of Hostels in Budapest | 7 |
| 🥇 Average Review Score | 8.9/10 |
| 💰 High season average price | 308 |
| 💸 Low season average price | 77 |
FAQ
Are hostels a safe option for accommodation in Budapest?
Yes, hostels in Budapest are generally safe options for accommodation. Most hostels have security measures in place, such as key card access, lockers for valuable belongings, and 24-hour front desk staff to ensure the safety of their guests. It is always recommended to exercise common sense and take necessary precautions while staying at any accommodation.
What facilities can I expect at a hostel in Budapest?
Hostels in Budapest offer a range of facilities to make your stay comfortable and enjoyable. Common facilities include dormitory-style rooms with bunk beds or private rooms, shared bathrooms with hot showers, communal kitchen or dining area where you can prepare meals, free Wi-Fi access, common lounge areas for socializing or relaxing, and often additional amenities like laundry facilities and bicycle rentals.
Can I find private rooms at hostels in Budapest?
Yes, many hostels in Budapest offer private rooms alongside dormitory-style accommodations. Private rooms typically come with either en-suite or shared bathrooms depending on the hostel. These rooms provide more privacy compared to dorms and are ideal for couples or travelers seeking more personal space during their stay.
Do I need to bring my own bedding when staying at a hostel in Budapest?
No, there's no need to bring your own bedding when staying at a hostel in Budapest. Hostels generally provide clean sheets and blankets upon check-in. In some cases, you may need to pay a small deposit that will be returned upon returning the bedding upon check-out. However, it's always good to double-check with the specific hostel beforehand if you have any concerns.
How can I meet other travelers while staying at a hostel in Budapest?
Staying at a hostel is an excellent way to meet fellow travelers from around the world. Many hostels organize social events like pub crawls or walking tours where you can join other guests and explore the city together. Additionally, common areas such as lounges, kitchens, or outdoor spaces provide opportunities for spontaneous conversations and making new friends during your stay in Budapest.
Popular Hostels destinations