Welcome to the vibrant city of London, where budget-friendly accommodation is not just a dream but a reality. In this eclectic metropolis, you will find a plethora of affordable lodging options known as hostels. These establishments cater to the adventurous souls who seek comfort without breaking the bank.
London's hostel scene offers an exciting mix of styles and atmospheres that appeal to all types of travelers. Whether you are a backpacker looking for a social hub or a solo traveler in search of tranquility, there is a hostel here that will meet your needs. From hip and trendy design hostels nestled in trendy neighborhoods to cozy and intimate ones tucked away on quiet streets, each one exudes its unique charm.
Staying in a hostel not only allows you to stretch your dollar but also provides an opportunity to connect with fellow globetrotters from around the world. Share stories, exchange travel tips, and forge lifelong friendships while enjoying the communal spaces designed specifically for social interaction. So pack your bags, choose your hostel hideaway in London, and embark on an unforgettable adventure filled with camaraderie and exploration!
Best London Hostels
Pax Lodge
Located in the Belsize Park area of London, Pax Lodge is a charming hostel that offers a cozy and comfortable stay for travelers. Situated just a 5-minute walk from the nearest Tube station, it provides easy access to all the attractions and sights in the city. The hostel features bright and spacious rooms, with amenities such as free WiFi, bed linen, and fans included. Guests can also enjoy the beautiful garden on-site or make use of facilities such as meeting rooms, luggage storage, a shared lounge area, and even a vending machine. One unique aspect of Pax Lodge is that it is owned and operated by the World Association of Girl Guides and Girl Scouts. In addition to its convenient location, guests will find numerous independent cafes, parks, and Keats' House within walking distance. For those looking to explore further, the vibrant neighborhood of Camden is just 1.5 miles away. With its friendly atmosphere and excellent facilities, Pax Lodge is an ideal choice for budget-conscious travelers seeking a pleasant stay in London.
– Convenient location near Belsize Park Tube station
– Free WiFi access available
– Bright and spacious rooms with bed linen provided
– Beautiful on-site garden for guests to enjoy
– Owned by World Association of Girl Guides and Girl Scouts
Wombat's City Hostel London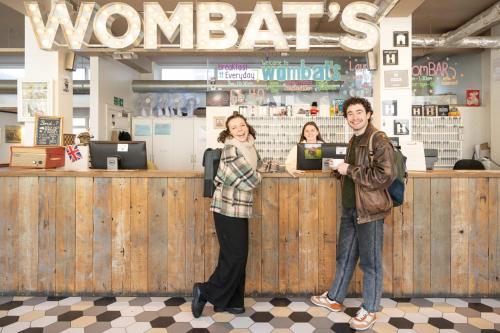 Located in the heart of London, Wombat's City Hostel offers travelers a comfortable and affordable stay with its basic yet cozy accommodations. Guests can choose between private or shared bathrooms with showers, and enjoy the convenience of free WiFi throughout the property. The hostel also boasts a terrace, a bar, and a 24-hour front desk for guests' ease. With vending machines on-site and numerous cafes, bars, restaurants, and supermarkets nearby, there is no shortage of options for food and drinks. Additionally, the hostel's prime location makes it easy to explore popular landmarks such as Tower Bridge (700 meters away) and Aldgate East (600 meters away). For those flying in or out of London Heathrow Airport, it is just 27 km away.
Pros:
– Central location in London
– Free WiFi access throughout the property
– Variety of accommodation options
– Terrace and bar on-site
– Close proximity to popular attractions
YHA London Central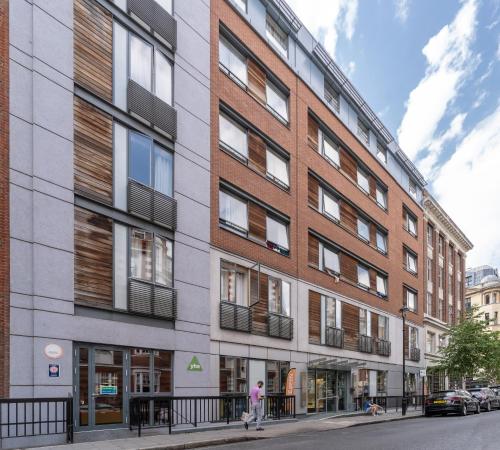 YHA London Central is a highly recommended hostel located in the heart of the capital, offering comfort and convenience to its guests. Situated just a 5-minute walk from Great Portland Street Tube Station, this hostel boasts its own bar and snack bar, as well as luggage storage facilities. The location is excellent, with Regent's Park just a 6-minute walk away and bustling Oxford Street within 9 minutes' reach. The dormitories are well-equipped with bunk beds and lockers for secure storage of valuables. Shared bathroom facilities with showers are available, some of which are en suite in certain dorms. For those seeking more privacy, private rooms are also available. Guests can enjoy a relaxed atmosphere at the café and bar that offers a variety of breakfast and lunch options for purchase, including croissants, paninis, and pasties. Additionally, computers are provided for guests to use in this area. With easy access to well-known areas such as King's Cross, Baker Street, Leicester Square, and Covent Garden; YHA London Central provides an ideal base for exploring the vibrant city.
– Excellent central location
– Own bar & snack bar
– Luggage storage available
– Variety of room options (dormitories & private rooms)
– Relaxed café & bar area offering breakfast & lunch options
Other places to stay in London
Family Friendly Hostels
When planning a family vacation, finding accommodation that not only caters to your needs but also provides a welcoming and safe environment for everyone is essential. That's where family-friendly hostels come in. These budget-friendly accommodations offer spacious rooms or dorms suitable for families, ensuring ample space for everyone to relax. With communal kitchens available, families can prepare their meals, saving money on dining out while still enjoying home-cooked meals. Family-friendly hostels also often provide common areas with games or activities, creating opportunities for the whole family to bond and make new friends from around the world. So if you're looking for an affordable yet enjoyable experience, consider staying at a family-friendly hostel on your next adventure!
Onefam Notting Hill by Hostel One
Onefam Notting Hill by Hostel One is conveniently located in London, close to popular attractions such as Portobello Road Market and Royal Albert Hall. This social party hostel is specifically designed for young backpackers and solo travelers seeking a vibrant atmosphere. Additionally, Hyde Park is just 1.8 km away from the property. The hostel offers a range of amenities including a 24-hour front desk, free WiFi access, and exciting daily activities and evening events for guests to enjoy. Moreover, its proximity to London City Airport (17 km) makes it easily accessible for travelers flying in or out of the city.
Pros:
– Vibrant social atmosphere perfect for young backpackers
– Convenient location near popular attractions
– 24-hour front desk ensures round-the-clock assistance
– Free WiFi access available throughout the property
– Exciting daily activities and evening events organized by the hostel
Cricketers Hostel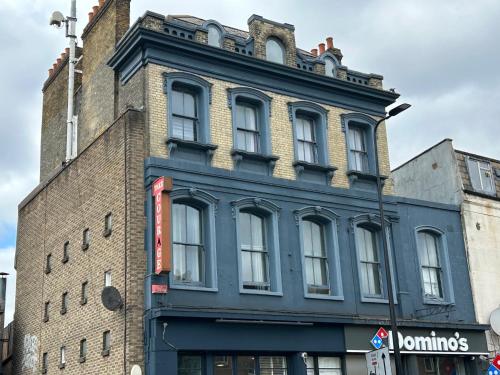 Located in London, just 2.3 km away from London Bridge, Cricketers Hostel offers comfortable accommodation with a shared lounge and free WiFi. The hostel is conveniently situated near popular landmarks such as Big Ben (2.4 km), Waterloo Station (1.9 km), and the Houses of Parliament (2.6 km). The rooms at Cricketers Hostel are equipped with a shared bathroom and bed linen. Guests have access to a shared kitchen and luggage storage facilities. London Bridge Underground Station is only 2.7 km away, while Westminster Abbey can be reached within 2.8 km. For travelers flying in, the nearest airport is London City Airport, located 14 km from the property.
– Prime location in central London
– Free WiFi available for guests
– Shared kitchen facilities for convenience
– Close proximity to major attractions and transportation hubs
– Luggage storage available for added convenience
Hostelle – women only hostel London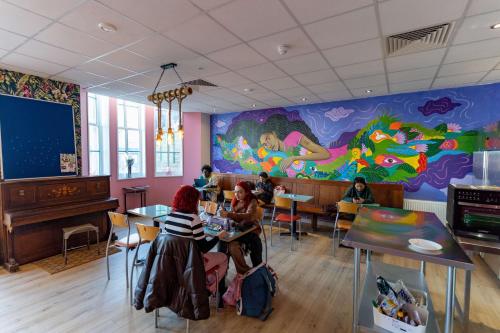 Located in London, Hostelle – women only hostel offers a range of amenities for its guests. The hostel features a shared lounge, non-smoking rooms, and free WiFi throughout the property. It also has a terrace where guests can relax and enjoy the surroundings. The convenient location allows easy access to popular attractions such as Brick Lane, Victoria Park, Sky Garden, Liverpool Street Underground Station, Tower of London, and Tower Bridge. The friendly staff at the 24-hour front desk are available to provide information and assistance to guests. The hostel also offers karaoke nights and has a shared kitchen for those who prefer to prepare their own meals. Accommodation includes comfortable units with shared bathrooms, hairdryers, and bed linen provided. With its excellent location and amenities tailored specifically for women travelers, Hostelle – women only hostel is an ideal choice for those visiting London.
– Convenient location near major attractions
– Free WiFi throughout the property
– Shared lounge for socializing with other guests
– Terrace for relaxation and enjoying the surrounding area
– 24-hour front desk staff available for assistance
Other places to stay in London
Information about Hostels in London
| | |
| --- | --- |
| 🏢 Number of Hostels in London | 6 |
| 🥇 Average Review Score | 8.3/10 |
| 💰 High season average price | 1422 |
| 💸 Low season average price | 355.5 |
FAQ
What are the benefits of staying in a hostel in London?
Staying in a hostel in London offers several benefits for travelers. Firstly, hostels are much more budget-friendly compared to hotels, making them an ideal choice for those looking to save money on accommodation. Additionally, hostels provide a great opportunity to meet and socialize with fellow travelers from all around the world, as they often offer communal areas and organize activities or events. Moreover, many hostels in London are conveniently located near popular tourist attractions and public transportation, making it easier to explore the city.
What types of rooms can I expect in a hostel in London?
Hostels in London typically offer a variety of room options to suit different travelers' needs. The most common types include dormitory-style rooms with bunk beds and shared facilities such as bathrooms and kitchens. These dormitories can range from smaller ones with 4-6 beds to larger ones with 10-12 beds or more. Some hostels also offer private rooms for those who prefer more privacy but still want the social atmosphere of a hostel. Private rooms often come with en-suite bathrooms and may accommodate two or more people.
Are hostels safe in London?
Yes, most hostels in London prioritize safety and security measures for their guests. They usually have key card access systems or secure lockers where you can store your belongings safely. It is important to choose reputable hostels that have good reviews regarding safety precautions. While incidents can happen anywhere, staying alert and following basic safety guidelines will ensure a safer experience during your stay.
Do hostels provide amenities like Wi-Fi and laundry facilities?
Yes, most hostels in London provide amenities such as free Wi-Fi access throughout the property so that you can stay connected during your trip. Laundry facilities are also commonly available either for free or at an additional cost, allowing you to keep your clothes clean without needing to find an external laundromat. Some hostels may also have communal kitchens where you can prepare your own meals and common areas such as lounges or rooftops for relaxation and socializing.
Can I book a hostel in London in advance?
Yes, it is highly recommended to book your hostel in London in advance, especially during peak travel seasons or popular events. Booking in advance ensures that you have a guaranteed place to stay and allows you to secure better rates. Many hostels provide online booking platforms on their websites or through third-party booking websites where you can easily make reservations. However, it is always advisable to check the cancellation policy before making any bookings, just in case your plans change.
Popular Hostels destinations