Welcome to the enchanting town of Sintra, Portugal! Nestled amidst lush green hills and dotted with fairytale-like castles, Sintra is a true gem for travelers seeking a unique and magical experience. And what better way to immerse yourself in this whimsical destination than by staying in one of the many budget accommodations available – hostels!
Sintra boasts an array of hostels that cater to every type of traveler. Whether you're a solo adventurer looking to make new friends or a budget-conscious backpacker searching for affordable yet comfortable lodging, Sintra has got you covered. These pocket-friendly options offer much more than just a place to lay your head at night; they provide an opportunity to connect with fellow explorers from around the world, share travel stories over communal meals, and create memories that will last a lifetime.
From cozy dormitory-style rooms adorned with vibrant artwork to private en-suite options for those seeking extra privacy, there's no shortage of choices when it comes to choosing your ideal hostel in Sintra. Many establishments are located within walking distance of the town center and attractions such as Quinta da Regaleira and Pena Palace, allowing you to easily explore all that this captivating place has to offer.
So whether you're embarking on a solo adventure or traveling with friends on a shoestring budget, consider staying at one of Sintra's charming hostels for an unforgettable experience that combines affordability and community spirit. Get ready to unlock the secrets of this picturesque town while forging lasting connections with like-minded travelers along the way!
Best Sintra Hostels
Meraki Hostel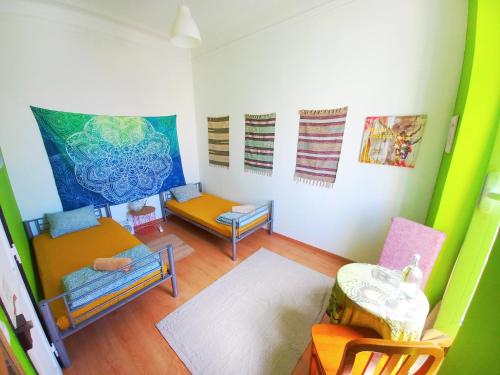 Meraki Hostel is a charming accommodation option situated in Praia das Maçãs, Colares. With its convenient location, guests can easily explore the surrounding areas and enjoy a variety of attractions. The hostel boasts a welcoming on-site bar where visitors can relax and socialize. One of the highlights of Meraki Hostel is its free WiFi access throughout the property, allowing guests to stay connected and plan their adventures effortlessly. The rooms are comfortable and feature shared bathrooms, ensuring a cozy communal atmosphere. Additionally, there is a shared kitchen available for guests to prepare their meals and shops nearby for any necessities. For those traveling by air, Lisbon Humberto Delgado Airport is conveniently located 30 km away from the property.
Benefits:
– Convenient location near Praia das Maçãs and Colares
– Welcoming on-site bar for socializing
– Free WiFi throughout the property
– Comfortable rooms with shared bathrooms
– Shared kitchen available for guests' use
Moon Hill Hostel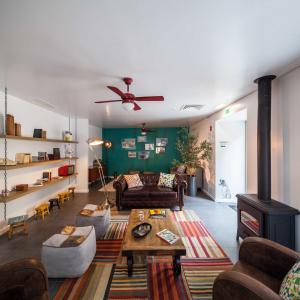 Moon Hill Hostel, located in the heart of historical Sintra, is the perfect accommodation for travelers looking to explore this enchanting city. Situated just 300 meters from the train station and 400 meters from the Sintra National Palace, guests have easy access to all the main attractions. The hostel boasts uniquely decorated rooms that are bright and carefully furnished, offering views of the surrounding area. Whether you choose a room with a private bathroom or shared facilities, comfort is guaranteed. Start your day with a delicious breakfast served daily in the meal area and later enjoy meals at the in-house restaurant. The hostel also offers a 24-hour front desk, garden, terrace, shared lounge and luggage storage. Free Wi-Fi is provided throughout the property and public parking can be found just 150 meters away. Don't miss out on visiting Quinta da Regaleira and Moorish Castle which are both only 1 km away or take a short trip to see Pena Palace at 2.4 km distance. With its central location and convenient amenities, Moon Hill Hostel is an excellent choice for your stay in Sintra.
– Centrally located near train station and national palace
– Uniquely decorated rooms with beautiful views
– Daily breakfast included
– In-house restaurant for convenient dining
– Helpful staff available at 24-hour front desk
Sintra Small Hostel
The Sintra Small Hostel is a themed hostel located 1.2 km from the historical and scenic Sintra center. It features permanent exhibits dedicated to traditional Portuguese household items and is conveniently situated just a 5-minute drive from the Moorish Castle. The hostel offers 4 bedrooms, some of which boast beautiful mountain views. Set in a renovated 19th century home that still retains its original features, this charming hostel provides a unique and authentic experience for guests. Within close proximity to the property, there are several restaurants specializing in delicious traditional Portuguese meals. The famous Pena National Palace, one of Sintra's most iconic landmarks, is just a quick 4-minute drive away, while the Pena Park gardens with their green areas and hiking trails can be reached in only 3 minutes by car. With its location within the Sintra-Cascais Natural Park, guests at this hostel have easy access to vast green spaces and natural surroundings perfect for outdoor activities and exploration. Additionally, staying at the Sintra Small Hostel allows visitors to enjoy nearby shops and traditional cafés in the lively Sintra center. For those arriving by air, Lisbon International Airport is just a convenient 23-minute drive away.
– Themed hostel with permanent exhibits on Portuguese household items
– Conveniently located near historical sites such as Moorish Castle and Pena National Palace
– Some rooms offer stunning mountain views
– Easy access to hiking trails and green spaces within the Sintra-Cascais Natural Park
– Close proximity to restaurants specializing in traditional Portuguese cuisine
Other places to stay in Sintra
Family Friendly Hostels
Family Friendly Hostels are a great accommodation option for those traveling with children. These hostels provide a safe and welcoming environment for families, offering spacious rooms or dorms that can accommodate multiple family members, as well as facilities such as kitchenettes or communal kitchens where families can prepare their own meals. Additionally, many family friendly hostels also offer common areas and playrooms where children can socialize and have fun with other young travelers. With affordable prices and a sense of community, family friendly hostels are an excellent choice for families looking to explore new destinations while staying within budget.
Oasis Backpackers Hostel Sintra Surf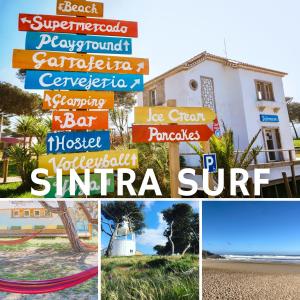 Oasis Backpackers Hostel Sintra Surf is a charming hostel located in Sintra, offering a range of amenities for guests to enjoy. The hostel features a restaurant and bar, providing delicious meals and refreshing drinks for travelers. There is also a cozy shared lounge where guests can relax and socialize with fellow travelers. Additionally, the hostel boasts a beautiful garden and terrace with stunning garden views, perfect for unwinding after exploring the nearby attractions. Families are welcome at this property, as it offers family rooms and a children's playground to keep young ones entertained. The hostel is conveniently situated near popular points of interest including Macas Beach, Praia Pequena do Rodizio, and Adraga Beach. Guests can also take advantage of the evening entertainment offered by the accommodation or prepare their own meals in the shared kitchen.
– Restaurant and bar on-site
– Cozy shared lounge area
– Beautiful garden with terrace
– Family-friendly amenities including family rooms and children's playground
– Convenient location near popular beaches
Vale do Sol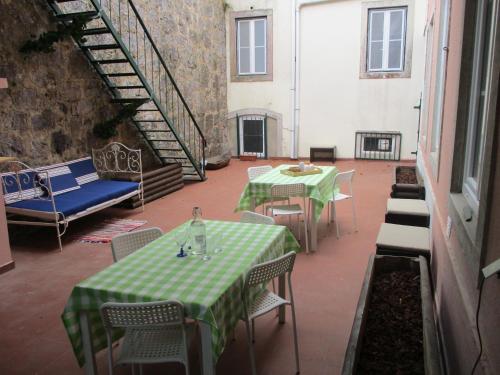 Conveniently located in the bustling Sintra City Center district, Vale do Sol offers a comfortable stay for travelers visiting Sintra. The hostel is situated close to popular attractions such as Quinta da Regaleira, Pena National Palace, and Moors Castle. Guests can make use of the shared kitchen and enjoy the terrace area. The rooms come with free WiFi and some even offer picturesque city views. The property is just a short distance from the city center and Sintra National Palace, making it a convenient choice for exploring the area. Guests can also engage in activities like cycling during their stay. With easy access to Luz Football Stadium and Jeronimos Monastery, as well as being within close proximity to Humberto Delgado Airport, Vale do Sol provides convenience and comfort for travelers.
– Convenient location in Sintra City Center
– Shared kitchen facilities
– Terrace area for relaxation
– Free WiFi
– Close proximity to popular attractions
Information about Hostels in Sintra
| | |
| --- | --- |
| 🏢 Number of Hostels in Sintra | 5 |
| 🥇 Average Review Score | 8.2/10 |
| 💰 High season average price | 760 |
| 💸 Low season average price | 190 |
FAQ
Can you recommend any hostels in Sintra, Portugal?
Yes, I can definitely recommend a few great hostels in Sintra. One option is the This Is Lisbon Hostel, located right in the heart of the town. With its cozy atmosphere and friendly staff, guests will feel right at home. Another good choice is Sintra Boutique Hotel, which offers a comfortable stay with modern amenities. Lastly, if you're looking for a budget-friendly option, check out the Nice Way Sintra Palace Hostel – it's affordable and conveniently located near all the main attractions.
What are some popular attractions near hostels in Sintra?
There are several popular attractions near hostels in Sintra that you won't want to miss. One must-visit attraction is Pena Palace, known for its stunning architecture and breathtaking views. The Moorish Castle is another notable spot with its fascinating history and panoramic views of the surrounding area. Quinta da Regaleira is also highly recommended – this enchanting estate features beautiful gardens and mysterious underground tunnels waiting to be explored.
Are there common areas or shared facilities available at hostels?
Yes, most hostels in Sintra offer common areas or shared facilities where guests can socialize and relax. These areas often include communal kitchens where guests can prepare their own meals, dining spaces to enjoy them together, and cozy lounges to unwind after a day of exploring. Some hostels even have outdoor terraces or gardens perfect for sipping a cup of coffee while enjoying the fresh air.
What types of rooms are available at hostels?
Hostels usually offer different types of rooms to cater to various needs and preferences. Most commonly found are dormitory-style rooms with bunk beds that accommodate multiple guests sharing one room and bathroom facilities down the hall or adjacent to each room. However, private rooms may also be available for those seeking more privacy or traveling as a couple or family. These private rooms typically come with their own en-suite bathroom.
Is it necessary to book in advance or can I find a hostel upon arrival?
While it is possible to find a hostel upon arrival in Sintra, especially during the low season, it is generally recommended to book in advance. Sintra is a popular tourist destination, and hostels can fill up quickly, especially during peak seasons. Booking in advance ensures that you have a guaranteed place to stay and allows you to choose from a wider range of available options.
Popular Hostels destinations