Welcome to Dublin, the vibrant and charismatic capital of Ireland. If you're looking for an affordable and sociable accommodation option, then look no further than the hostels in this enchanting city. Hostels are budget-friendly and provide a unique opportunity for travelers to connect with like-minded individuals from all walks of life.
Dublin's hostels epitomize the essence of Irish hospitality, offering cozy lodging options that are perfect for solo adventurers or groups on a tight budget. These accommodations boast a plethora of amenities such as comfortable dormitory-style rooms or private en-suite options, ensuring there is something to suit every traveler's needs. From quaint traditional buildings to more modern establishments, Dublin's hostels exude charm and character.
Staying at a hostel also means immersing yourself in Dublin's rich cultural tapestry. Most hostels organize regular social events, pub crawls, or walking tours where you can explore the city alongside fellow globetrotters. The friendly staff often double as local guides, pointing out hidden gems and sharing insider tips on where to find the best Guinness or catch live traditional music sessions.
Whether you're backpacking through Europe or just exploring Ireland for a few days, choosing one of Dublin's vibrant hostels will undoubtedly enhance your travel experience while keeping your wallet happy. So pack your bags and get ready to embark on an unforgettable adventure in this lively city!
Best Dublin Hostels
Gardiner House
Gardiner House is a charming hostel located in Dublin, set within a converted Victorian chapel that is over 200 years old. The property offers a variety of accommodation options including shared dorms and private rooms, all equipped with amenities such as TV and tea/coffee making facilities. Towels can be rented for a small fee and hairdryers are available upon request. Guests have access to a 24-hour shared kitchen where they can prepare their own meals and store food in the fridge. A continental breakfast is served every morning, and complimentary tea, coffee, and hot chocolate are available in the Tea Room. The hostel also features a sun terrace, garden, and billiards for guests to enjoy. Reception is available 24/7 with multilingual staff speaking Italian, Spanish, and English to assist guests. Free Wi-Fi is provided throughout the property along with additional services such as laundry facilities and business facilities like faxing and photocopying. Gardiner House's central location allows guests easy access to popular attractions like Croke Park Stadium (700m), Temple Bar (17-minute walk), Trinity College (1.5km), The City Hall (19-minute walk), Visit Dublin (1.6km) ,and Dublin Castle (1.7km).
Generator Dublin
Generator Dublin is a hostel that offers a Dormitory Room for 6 with bunk beds and a shared external bathroom and toilet. The room includes bed linen and individual lockers, making it the perfect choice for you and your crew. The room features 3 bunks with a total of 6 beds, as well as a private bathroom. Each bunk also includes a light feature, personal shelf, and under-bed lockers for your convenience. Additionally, pillows, duvets, and linen are supplied in the room. If needed, towels can be obtained at reception for a small fee.
Pros:
– Affordable accommodation option
– Convenient location in Dublin
– Individual lockers provided for each guest
– Private bathroom in the dormitory room
– Light feature and personal shelf included with each bunk bed
Leevin Hostel Mountjoy
Leevin Hostel Mountjoy is a conveniently located hostel in Dublin, offering a range of amenities for travelers. Situated close to popular attractions such as Connolly Train Station and Dublin Castle, the hostel provides guests with easy access to explore the city. The property features a garden, free WiFi, and a shared lounge where guests can relax and socialize. In addition, Leevin Hostel Mountjoy offers entertainment options such as billiards and table tennis. With a shared kitchen, 24-hour front desk, and luggage storage available, guests are provided with convenience and comfort throughout their stay. The hostel also offers bed linen in all units. Nearby points of interest include St. Michan's Church, Jameson Distillery, and Croke Park Stadium. For travelers flying into Dublin Airport, the accommodation is just 8 km away.
Pros:
– Prime location in Dublin
– Free WiFi
– Shared lounge for socializing
– Entertainment options like billiards and table tennis
– Convenient amenities including shared kitchen and 24-hour front desk
Other places to stay in Dublin
Family Friendly Hostels
Family Friendly Hostels are a perfect accommodation option for those traveling with children. These hostels not only provide comfortable and affordable rooms, but also offer a range of amenities and services tailored to meet the needs of families. With spacious family rooms, cribs or extra beds available upon request, and child-friendly facilities such as play areas or game rooms, these hostels ensure that both parents and children have an enjoyable stay. Additionally, many family friendly hostels organize activities for kids, making them a great choice for families looking to create lasting memories during their travels.
Abbey Court Hostel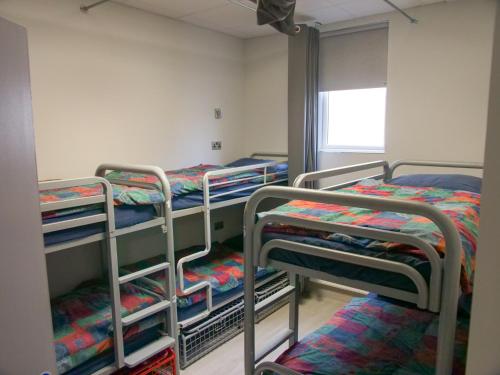 Located just off Dublin's famous O'Connell Bridge, Abbey Court Hostel is a modern hostel offering free Wi-Fi and a range of facilities for guests. The hostel boasts a 24-hour reception and nightly pub crawls, along with free bed linen, lockers in the rooms, laundry facilities, and free use of computers with internet access. Guests can enjoy daily guided walking tours and take advantage of the airport shuttle bus that stops at the hostel. With its games and music room, relaxing lounge, self-catering kitchen, and 24-hour availability of snacks and drinks, Abbey Court Hostel provides ample entertainment options for guests. Additionally, the hostel has a branch of Dublin's Tourist Office on-site with knowledgeable staff available around the clock to offer advice and tourist tips. Conveniently situated within walking distance to popular attractions such as Temple Bar nightlife area (2-minute walk), Trinity College (10-minute walk), Dublin Castle (15-minute walk), and Christchurch Cathedral (15-minute walk), Abbey Court Hostel offers an ideal base for exploring all that Dublin has to offer.
Pros:
– Free Wi-Fi
– 24-hour reception
– Nightly pub crawls
– Wide range of facilities including laundry facilities
– Free guided walking tours
Clink i Lár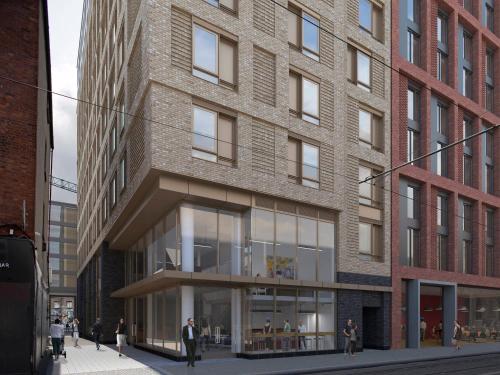 Clink i Lár is a hostel located in Dublin, just 800 meters away from St. Michan's Church. The property offers express check-in and check-out, non-smoking rooms, a shared lounge, free WiFi throughout the building, and a bar. Guests can easily visit popular attractions such as Jameson Distillery, The City Hall, and Dublin Castle. In addition to this, Clink i Lár is situated near Chester Beatty Library (less than 1 km), Gaiety Theatre (a 13-minute walk), and The Little Museum of Dublin (1.3 km). The hostel provides evening entertainment as well as a shared kitchen for guests to use. Rooms come with comfortable bed linen and guests can enjoy a continental, vegetarian or vegan breakfast daily at the property. With multilingual staff fluent in English, Spanish, French and Irish, guests will receive practical guidance on the area at the reception desk. Dublin Airport is conveniently located just 9 km away from Clink i Lár.
Pros:
– Convenient location near popular attractions
– Free WiFi throughout the property
– Shared kitchen available for guest use
– Evening entertainment provided
– Multilingual staff offering practical guidance on the area
Ashfield Hostel
Ashfield Hostel in Dublin is a centrally located hostel, making it the perfect base for budget travelers or backpackers exploring the city. Situated between Trinity College and O'Connell Bridge, and just a short walk from Temple Bar and Grafton Street, this hostel offers convenience in terms of attractions and nightlife. The O2 venue, new Grand Canal Theatre, and Convention Centre are also within walking distance. The hostel provides all ensuite rooms with private bathrooms, free Wi-Fi, and bed linen. With no curfew in place, guests can come and go as they please. Additional amenities include vending machines with drinks and light snacks, hot showers, luggage storage facilities, as well as access to a self-catering kitchen and common areas.
– Centrally located between popular attractions
– Ensuite rooms with private bathrooms
– Free Wi-Fi and bed linen provided
– No curfew for maximum flexibility
– Amenities like vending machines for drinks/snacks
Other places to stay in Dublin
Cheap Hostels in Dublin
Dublin, the vibrant capital of Ireland, is a popular destination for budget travelers seeking affordable accommodations. Cheap hostels in Dublin offer a great option for those looking to explore the city without breaking the bank. These budget-friendly establishments provide basic yet comfortable dormitory-style rooms and communal facilities where guests can socialize and connect with fellow travelers from around the world. With their central locations and convenient access to public transportation, cheap hostels in Dublin are an ideal choice for backpackers and solo adventurers on a tight budget.
The Apache Hostel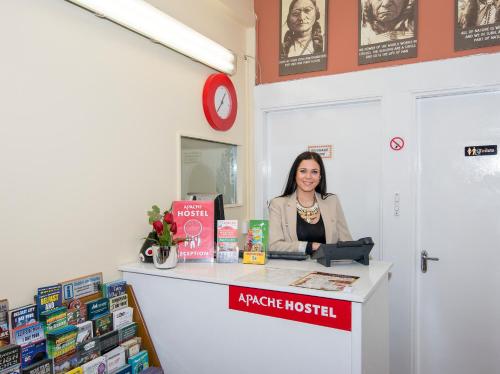 The Apache Hostel, situated in the lively Temple Bar district of Dublin, is the perfect choice for budget-conscious travelers. Just 200 meters from Dublin Castle and a short 5-minute walk from St Stephen's Green, this hostel offers affordable accommodation with a range of amenities. Guests can enjoy free Wi-Fi throughout their stay and take advantage of the charming rooftop terrace to unwind after a day exploring the city. The hostel boasts a 24-hour reception and is surrounded by an array of fantastic bars, restaurants, and clubs, making it an ideal base for those seeking to experience Dublin's vibrant nightlife scene. Additionally, guests at The Apache Hostel receive discounted rates at the nearby Apache Pizza Restaurant.
Leevin Hostel George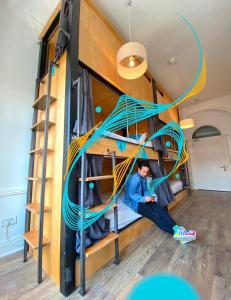 Leevin Hostel George is a centrally located hostel in Dublin, situated just 1.2 km away from Croke Park Stadium and 1.6 km from St. Michan's Church. The hostel offers free WiFi throughout the property and features a garden, shared lounge, and terrace for guests to enjoy. For entertainment, there is a billiards and table tennis area available. The hostel has non-smoking rooms and is conveniently positioned just 1.1 km from Connolly Train Station. The friendly staff at the reception speak English, Spanish, and Portuguese and are always ready to assist guests with any inquiries or needs they may have. Leevin Hostel George is also close to popular attractions such as Jameson Distillery, Trinity College, and Irish Whiskey Museum, making it an ideal choice for travelers looking to explore Dublin's highlights. Additionally, Dublin Airport is only 8 km away from the accommodation.
– Centrally located in Dublin
– Free WiFi
– Garden, shared lounge, and terrace
– Billiards and table tennis facilities
– Multilingual staff at reception
Kinlay House Dublin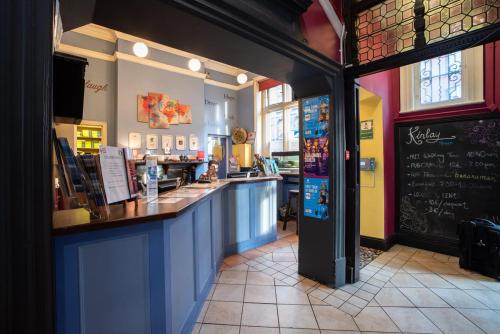 Located in the famous Temple Bar district, Kinlay House Dublin is a friendly hostel offering spacious rooms and free Wi-Fi. With its convenient location, guests will find bars, cafes, bus stops, and restaurants just a stone's throw away. The hostel features both en suite rooms and dormitory rooms, providing options for all types of travelers. Guests can enjoy a continental breakfast each morning and take advantage of the free hot showers available 24 hours a day. The hostel also offers amenities such as a 24-hour reception, secure lockers, an on-site shop, a guest lounge with a 42-inch plasma-screen TV, and a self-catering kitchen. Additionally, popular attractions like the Guinness Storehouse, Dublin Castle, and Trinity College are within easy walking distance. Overall, Kinlay House Dublin provides comfortable accommodation with great facilities in the heart of Dublin.
– Free Wi-Fi
– Convenient location in Temple Bar district
– Continental breakfast included
– 24-hour reception and secure lockers
– Close proximity to popular attractions
Information about Hostels in Dublin
| | |
| --- | --- |
| 🏢 Number of Hostels in Dublin | 9 |
| 🥇 Average Review Score | 7.1/10 |
| 💰 High season average price | 1774 |
| 💸 Low season average price | 443.5 |
FAQ
What are some popular hostels in Dublin?
Dublin has a wide range of popular hostels to choose from. Some of the top-rated ones include Generator Dublin, Abbey Court Hostel, Kinlay House Hostel, and Isaacs Hostel. These hostels offer comfortable accommodations, friendly staff, and convenient locations close to popular tourist attractions in the city.
How much does it cost to stay at a hostel in Dublin?
The cost of staying at a hostel in Dublin can vary depending on factors such as the time of year, location, and amenities offered. On average, you can expect to pay around €20-€40 per night for a bed in a dormitory-style room. Private rooms are also available at higher prices.
What amenities do hostels in Dublin provide?
Hostels in Dublin offer a variety of amenities to make your stay comfortable and convenient. Most hostels provide free Wi-Fi access, communal kitchen facilities where you can cook your own meals, common areas for socializing or relaxing, luggage storage options, laundry facilities or services (some may be coin-operated), and 24-hour reception desks for assistance.
Are hostels safe in Dublin?
Hostels in Dublin strive to ensure the safety and security of their guests. They usually have CCTV cameras installed throughout the premises and employ security personnel or have key card access systems for entry into both common areas and individual rooms. It is always recommended that guests exercise basic safety precautions like keeping their belongings secure and being aware of their surroundings while staying at any accommodation.
Can I book a private room at a hostel in Dublin?
Yes! Many hostels in Dublin offer private rooms along with dormitory-style accommodations. Private rooms are ideal for travelers who prefer more privacy or want to share with friends or family members. These rooms typically come with either shared or en-suite bathrooms depending on your preference but tend to be priced higher than dormitory beds.
Popular Hostels destinations