Welcome to Cologne, Germany! If you're seeking accommodation that offers a unique and budget-friendly experience, look no further than the hostels in this vibrant city. Hostels, also known as backpacker lodges or budget accommodations, have become increasingly popular among travelers searching for an authentic and cost-effective way to explore new destinations.
Cologne boasts a fantastic selection of hostels that cater to various preferences and budgets. Whether you're a solo traveler looking to connect with like-minded individuals or a group of friends embarking on an adventure together, there is undoubtedly a hostel that will meet your needs. These establishments provide cozy communal spaces where guests can mingle and share stories from their travels while enjoying the comforts of home away from home.
Hostels in Cologne offer more than just affordable lodging; they provide an opportunity to immerse yourself in the local culture and make lifelong memories with fellow travelers. From centrally located hostels within walking distance of iconic landmarks such as Cologne Cathedral and the Rhine River to those tucked away in bohemian neighborhoods bursting with artistic flair, there is an option for everyone's taste. So pack your bags, embrace the spirit of adventure, and come discover why staying at a hostel is the perfect choice for exploring beautiful Cologne!
Best Cologne Hostels
Weltempfänger Hostel
The Weltempfänger Hostel is located in the vibrant Ehrenfeld district of Cologne, providing easy access to the city's main attractions such as the famous Cologne Cathedral which is just a 12-minute underground ride away. This hostel offers simple yet comfortable rooms with free Wi-Fi and private bathrooms, ensuring a pleasant stay for guests. Additionally, each room also comes with lockers for added security. The Weltempfänger Café, a modern café located within the hostel premises, serves a delicious low-cost breakfast buffet every morning along with homemade cakes and light meals throughout the day. Its convenient location near Piusstraße Underground Station makes it effortlessly accessible for travelers to explore Cologne's highlights.
Pros:
– Convenient location in the lively Ehrenfeld district
– Close proximity to Piusstraße Underground Station for easy transportation
– Free Wi-Fi available in all rooms
– Private bathrooms ensure privacy and comfort
– Weltempfänger Café offers tasty homemade food options throughout the day
Jugendherberge Köln-Deutz
Located just 900 metres from the Cologne Exhibition Centre, Jugendherberge Köln-Deutz is a modern city hostel that serves as an ideal base for visitors to the Rhine metropolis and the Rhineland region. The hostel offers two dining rooms where guests can enjoy breakfast, as well as lunch and dinner at an additional cost. With its convenient location opposite the Köln-Deutz Train Station, it is easy to explore the city and beyond. Additionally, popular attractions such as Cologne Cathedral and the Old Town are only a 15-minute walk away. The hostel provides comfortable rooms with private bathrooms, and bed linen is included. Guests also have access to washing machines, dryers, internet terminals, and a shop that offers snacks and drinks.
Pros:
– Convenient location near transport links
– Close proximity to major attractions
– Comfortable rooms with private bathrooms
– Access to laundry facilities
– On-site shop offering snacks and drinks
Jugendherberge City-Hostel Köln-Riehl
The Jugendherberge City-Hostel Köln-Riehl is a budget-friendly youth hostel located in the Riehl district of Cologne, only 3 km away from the Old Town district. This hostel offers comfortable and modern rooms with private bathrooms. Guests can enjoy free parking spaces and a 24-hour reception for added convenience. In the morning, a delicious breakfast buffet awaits guests at the hostel's dining area. The Jugendherberge Köln Riehl also features a bistro where guests can purchase snacks and drinks throughout the day. Additional facilities include a recreation room with TV, an internet terminal, and even a barbecue area for those who wish to have an outdoor cooking experience. Plus, with Boltensternstraße Underground Station just 200 meters away, exploring Cologne's attractions is made easy.
Pros:
– Budget-friendly accommodation
– Free parking spaces
– 24-hour reception
– Modern rooms with private bathrooms
– Convenient access to public transportation
Other places to stay in Cologne
Family Friendly Hostels
Family friendly hostels are a great option for those traveling with children, offering a comfortable and safe environment for the whole family. These hostels often provide spacious family rooms or dorms, equipped with bunk beds or extra beds to accommodate everyone. They also offer amenities like childproof locks, high chairs, and play areas to keep the little ones entertained. With friendly staff who understand the needs of families, these hostels ensure a worry-free stay where parents can relax and enjoy their vacation while creating lasting memories together.
Station – Hostel for Backpackers
Located just 150 meters away from Cologne Central Station, the Station – Hostel for Backpackers is a bright and clean hostel that offers free Wi-Fi in public areas. The Cologne Cathedral can be reached within a 4-minute walk, making it an ideal choice for sightseeing enthusiasts. On-site facilities include a bar, cafe, and restaurant, providing guests with convenience and variety. The hostel also boasts a prime location near Cologne's pedestrian area, allowing guests to easily explore the city. With options for both private bathrooms and shared facilities on each floor, the hostel caters to different accommodation preferences. Guests can enjoy daily breakfast buffets and evening menus filled with delicious dishes. For entertainment, the bar features live music performances, DJs, and screens showing sports events in both the indoor bar area as well as the outdoor beer garden. The Cologne Trade Fair is conveniently accessible via a short ride on the city rail from the central station or by a 15-minute walk. It is important to note that reception closes at midnight; however, detailed instructions are provided via email for late check-ins to ensure hassle-free access to rooms.
– Conveniently located near Cologne Central Station
– Clean and bright rooms
– Free Wi-Fi in public areas
– On-site bar, cafe, and restaurant
– Close proximity to major attractions such as Cologne Cathedral
FeWo Hostel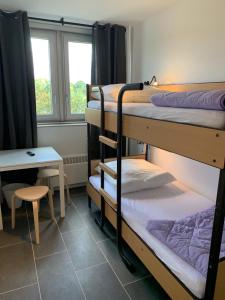 Located in the vibrant Neuehrenfeld district of Cologne, FeWo Hostel offers a prime location for travelers wanting to explore the city. With Saint Gereon's Basilica, Cologne Central Station, and the National Socialism Documentation Centre all within close proximity, guests have easy access to popular attractions. The hostel features a shared kitchen and a casino for entertainment. Each room is equipped with a flat-screen TV, and guests have access to shared bathrooms with showers. Private parking is available on-site and the reception is happy to provide information about exploring the area. Nearby landmarks include Cologne Cathedral and Theater am Dom, while Cologne Bonn Airport is just 17 km away.
– Prime location in the Neuehrenfeld district
– Shared kitchen facilities
– Casino available for entertainment
– Flat-screen TVs in every room
– Convenient private parking on-site
Black Sheep
Located in the heart of Cologne, Black Sheep is a centrally located hostel just 500 meters from Köln Süd Railway Station. The hostel offers free WiFi and lockers in the rooms, making it a convenient choice for travelers. Guests can also take advantage of the shared kitchen to prepare their own meals. The scenic banks of the River Rhine are just 1.5 km away, offering beautiful views and leisurely walks. The colorful accommodation at Black Sheep features lift access and shared bathroom facilities. Luggage storage and rental bikes are available for guests' convenience, and bed linen is provided free of charge. With various eateries within 250 meters of the property, guests have plenty of dining options nearby. Popular attractions such as Cologne's Old Town and Cologne Cathedral are easily accessible by foot or public transportation, with the main train station just a short tram ride away. For those flying into Cologne, Cologne Bonn Airport is located 15 km from the hostel.
– Centrally located near Köln Süd Railway Station
– Free WiFi and lockers in rooms
– Shared kitchen for guest use
– Scenic River Rhine just 1.5 km away
– Luggage storage and rental bikes available
Information about Hostels in Cologne
| | |
| --- | --- |
| 🏢 Number of Hostels in Cologne | 6 |
| 🥇 Average Review Score | 6.8/10 |
| 💰 High season average price | 1414 |
| 💸 Low season average price | 353.5 |
FAQ
What are some popular hostels in Cologne?
Cologne has a wide range of popular hostels to choose from. One of the top-rated options is the Pathpoint Cologne Backpacker Hostel, located near the city center and offering clean dormitory rooms and private rooms with shared bathrooms. Another highly recommended hostel is Die Wohngemeinschaft, known for its unique design and creative atmosphere. For budget travelers, Black Sheep Hostel offers affordable accommodation in a central location.
How much does it cost to stay in a hostel in Cologne?
The cost of staying in a hostel in Cologne can vary depending on factors such as the season, location, and facilities offered by each establishment. On average, you can expect to pay around €20-30 per night for a bed in a shared dormitory room. Private rooms with shared bathrooms tend to be slightly more expensive, ranging from €40-60 per night.
What amenities do hostels in Cologne offer?
Hostels in Cologne generally offer basic amenities such as free Wi-Fi, communal kitchen facilities where guests can prepare their own meals, and common areas for socializing or relaxing. Some hostels may also provide additional services like laundry facilities, luggage storage, bike rentals or even organized city tours.
Are hostels suitable for families traveling with children?
While hostels are more commonly associated with solo travelers or backpackers seeking budget accommodation options, there are also family-friendly hostels available in Cologne. These establishments often offer private family rooms with en-suite bathrooms or larger dormitory-style rooms that can accommodate groups comfortably. It's advisable to check specific hostel websites or contact them directly to inquire about family-friendly facilities and any age restrictions they may have.
Is it necessary to book a hostel room in advance?
It is generally recommended to book your hostel room in advance when visiting popular destinations like Cologne during peak travel seasons or major events. This ensures that you have a guaranteed place to stay and allows you to secure better rates. However, if you are visiting during the low season or traveling spontaneously, you may have more flexibility in finding available rooms without prior reservations, especially on weekdays.
Popular Hostels destinations