Welcome to our latest adventure exploring the enchanting world of budget accommodations in Wales, part of the United Kingdom. In this guide, we will take you on a virtual tour through the diverse and captivating hostels that dot the stunning Welsh landscape. From vibrant cities like Cardiff to breathtaking natural wonders such as Snowdonia National Park, there are hostels aplenty for every traveler seeking comfort and affordability.
With their wallet-friendly prices and unique communal atmosphere, hostels are becoming an increasingly popular choice for globetrotters of all ages. Embracing the true spirit of wanderlust, these budget-friendly havens offer much more than just a place to rest your head at night. They serve as a hub where like-minded adventurers from around the world can come together to swap stories, share experiences, and forge lifelong friendships.
So whether you're embarking on a solo journey or traveling with a group of friends, join us as we uncover some hidden gems nestled amidst Wales' picturesque landscapes. Prepare yourself for cozy dorm rooms adorned with local artwork, buzzing common areas alive with laughter and excitement, and friendly staff who will go above and beyond to ensure your stay is nothing short of extraordinary. Let's dive into an unforgettable hostel experience in Wales – where memories are made and strangers become friends!
Best Wales Hostels
Canolfan Y Fron (Caernarfon)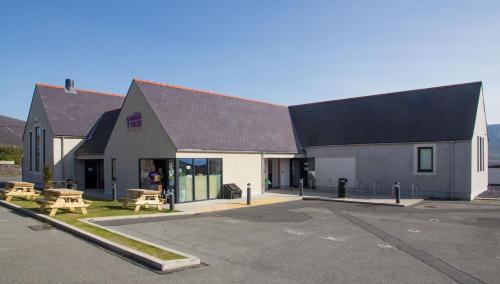 Canolfan Y Fron is a hostel located in Caernarfon, just 21 km away from Snowdon Mountain Railway. The property offers comfortable accommodation with amenities such as a shared lounge, free private parking, and a terrace. Guests can make use of the shared kitchen and business centre, as well as enjoy free WiFi throughout the property. All rooms have a private bathroom and come with bed linen. The hostel is allergy-free and located 27 km from Snowdon, making it an ideal base for hiking enthusiasts. Canolfan Y Fron also features a children's playground for younger guests to enjoy. Additionally, there are various activities in the area including hiking trails and popular attractions like Portmeirion (31 km) and Bangor Cathedral (25 km).
Pros:
– Convenient location near Snowdon Mountain Railway
– Free private parking available
– Shared kitchen and business centre facilities
– Free WiFi throughout the property
– Children's playground on-site
YHA Brecon Beacons Danywenallt (Llansantffread)
Located in the beautiful Brecon Beacons National Park, YHA Danywenallt offers a peaceful retreat for nature enthusiasts. This converted farmhouse is nestled amidst wooded slopes, towering peaks, and cascading waterfalls, making it an ideal base for hiking and exploring the park. The hostel provides a range of accommodation options including private rooms and dormitories, some of which come with en suite facilities. Guests can unwind in the communal lounge or enjoy a drink at the bar. The on-site restaurant serves delicious dishes made with locally sourced ingredients, while the self-catering kitchen is equipped with all necessary appliances. Outdoor enthusiasts will find plenty to keep them occupied, from cycling along the nearby Taff Trail to embarking on more challenging hikes towards Pen-y-Pan. Sailing and horse riding are also popular activities in the area. Free parking is available for guests' convenience.
Pros:
– Scenic location within Brecon Beacons National Park
– Various accommodation options to suit different needs
– On-site restaurant serving locally sourced dishes
– Communal lounge and bar for relaxation
– Easy access to outdoor activities such as cycling and hiking
Self Catering Cellb Ffestiniog (Blaenau-Ffestiniog)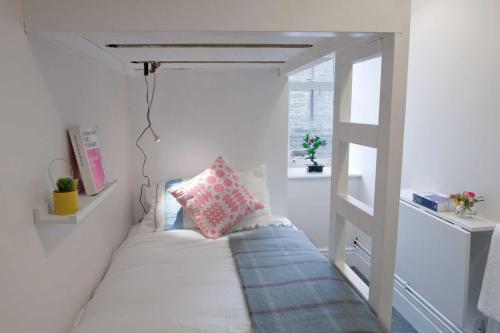 Located in Blaenau-Ffestiniog, Self Catering Cellb Ffestiniog is a hostel that offers comfortable accommodation with free WiFi and free private parking. The hostel is perfectly situated, with popular attractions such as Portmeirion, Snowdon, Snowdon Mountain Railway, Llandudno Pier, and Bodnant Garden all within easy reach. The guest rooms are spacious and feature a seating area for guests to unwind. Each room also comes with a private bathroom and bed linen. For those traveling by air, Anglesey Airport is the nearest airport at 81 km away.
Pros:
– Free WiFi
– Free private parking
– Convenient location near popular attractions
– Spacious rooms with comfortable seating area
– Private bathrooms in every room
Other places to stay in Wales
Family Friendly Hostels
Family Friendly Hostels are a popular choice for travelers seeking affordable and inclusive accommodation options. These hostels cater specifically to families, offering spacious rooms or dormitories that can accommodate multiple family members comfortably. With a range of amenities such as communal kitchens, laundry facilities, and common areas, families can enjoy a home away from home experience. Additionally, family friendly hostels often organize various activities for children and provide essential equipment like cribs or high chairs to ensure a hassle-free stay. Whether it's exploring the city together or meeting fellow travelers from around the world, these hostels create a welcoming environment where families can create lasting memories.
YHA Snowdon Llanberis (Llanberis)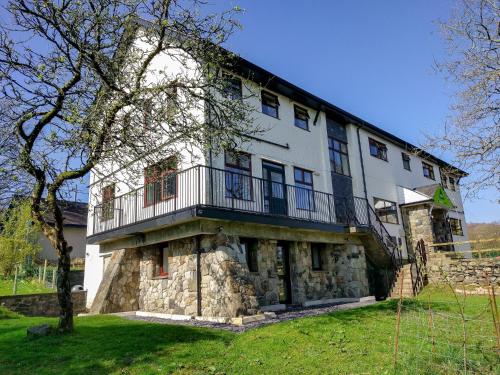 YHA Snowdon Llanberis is a charming hostel nestled in the stunning mountain scenery of north Wales, right on the doorstep of Snowdonia National Park. The hostel offers comfortable accommodation with bright rooms that feature bunk beds and shared bathroom facilities. Guests can enjoy a delicious buffet breakfast each morning, which includes cooked items, cereals, juices, yoghurts, and fruit. Additionally, there is a TV lounge and a self-catering kitchen where guests can prepare their own meals. The hostel provides free bike storage for those looking to explore the local landscape through walks and cycle trails. If you're feeling adventurous, Snowdon Mountain Railway is just 1 mile away in Llanberis and offers regular trips up to the impressive 3000-foot summit.
– Charming location in the heart of Snowdonia National Park
– Daily buffet breakfast included
– Convenient self-catering kitchen available for guest use
– Free bike storage for exploring the local landscape
– Close proximity to Snowdon Mountain Railway for easy access to breathtaking views at the summit
The Eagles Bunkhouse (Betws-y-coed)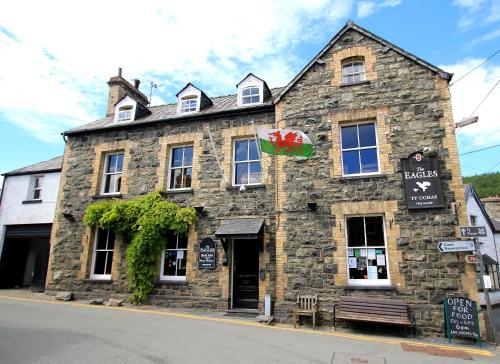 Located in the heart of Snowdonia National Park, The Eagles Bunkhouse is a charming 19th-century building that offers guests a cozy and comfortable stay. With free WiFi and an on-site pub with log fires (open Wednesday to Sunday), guests can relax and unwind after a day of exploring. The bunkhouse provides tea/coffee making facilities, duvets, pillows, and bedsheets in each room. There is also a self-catering kitchen and shared bathroom facilities available for guests to use. For those traveling with bikes, there is a secure bike lock-up, as well as options to charge electric bikes and hire towels for an additional fee. With all the Welsh 3000-foot peaks within 15 miles and the Penmachno track just half a mile away, adventure seekers will have plenty of opportunities for outdoor activities. Additionally, the pretty town of Betws-y-Coed is only a 10-minute drive away where visitors can explore craft shops and enjoy the beauty of Swallow Falls. British cuisine is served in the family-friendly atmosphere of the bunkhouse's restaurant every Saturday from 18:00 to 20:00 and Friday from March to October.
– Charming 19th-century building
– Free WiFi
– On-site pub with log fires
– Secure bike lock-up
– Convenient location near outdoor activities and craft shops
YHA Idwal Cottage (Bethesda)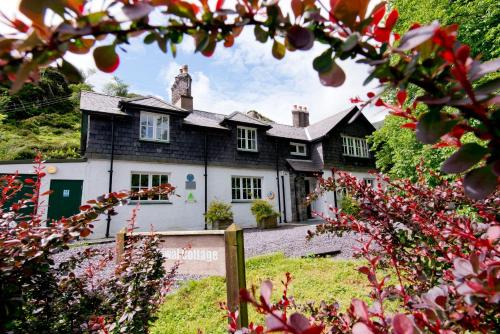 Located in Bangor, the YHA Idwal Cottage is an eco-friendly hostel that offers self-catering accommodation with shared kitchen facilities and a bar. This charming Snowdonia accommodation is perfectly situated between the Glyder and Carneddau Mountains, making it an ideal base for exploring the Cwm Idwal Nature Reserve and the Devil's Kitchen. The hostel features private rooms as well as shared dormitory rooms, allowing guests to choose their preferred level of privacy. With its spacious and well-equipped kitchen, guests have the freedom to prepare their meals at their convenience. Outdoor enthusiasts will be delighted by the numerous activities available in the Ogwen Valley, including cycling, hiking, and walks along the Cambrian Way or Welsh 3000s. Families will appreciate the free parking and garden area at YHA Idwal Cottage, which also offers easy access to Penrhyn Castle with just a 20-minute drive.
– Eco-friendly hostel with shared kitchen facilities
– Perfect location for exploring nature reserves and mountains
– Variety of room options including private rooms and dormitories
– Abundance of outdoor activities in Ogwen Valley
– Convenient amenities like free parking and garden area
Cheap Hostels in Wales
Wales offers a variety of affordable hostels, perfect for budget travelers looking to explore this beautiful country. With stunning landscapes and rich history, staying in a cheap hostel allows visitors to stretch their budget while still experiencing the charm and character of Wales. Whether located in vibrant cities or nestled in the countryside, these hostels provide comfortable accommodation with communal spaces that encourage social interaction among guests. From dormitory-style rooms to private options, there is something to suit every traveler's needs without breaking the bank.
YHA Port Eynon (Port-Eynon)
Formerly a lifeboat station, YHA Port Eynon is a unique hostel located on an award-winning beach in Port-Eynon. With activities like bodyboarding, kayaking, and rock-pooling right at your doorstep, it's an ideal destination for outdoor enthusiasts. The hostel boasts stunning coastal views from its lounge area and even offers a cozy log fire during the colder months. Situated within the Gower Peninsula, which is designated as an Area of Outstanding Natural Beauty, guests can expect breathtaking scenery throughout their stay. In terms of amenities, YHA Port Eynon provides a shared kitchen for self-catering purposes and features additional facilities such as a shared lounge and luggage storage. One of the added perks is free parking on-site for those traveling by car. For travelers arriving by air, Cardiff Airport is conveniently located 62 km away from the property.
Pros:
– Direct access to the award-winning beach
– Exciting water activities available nearby
– Breathtaking coastal views from the lounge area
– Cozy log fire in colder months
– Located within an Area of Outstanding Natural Beauty
Woodlands Centre (Betws-y-coed)
Woodlands Centre is a cozy hostel located in the charming town of Betws-y-coed. It offers comfortable accommodation with a range of amenities to make your stay enjoyable. The hostel features a beautiful garden, free private parking, a shared lounge, and a terrace. It is conveniently situated just 20 km away from Snowdon, making it an ideal base for exploring this stunning natural landmark. Additionally, guests can easily partake in outdoor activities like hiking and cycling right from the doorstep of the hostel. Free WiFi and a shared kitchen are available for added convenience. The rooms at Woodlands Centre have all the necessary amenities including bed linen, and some even come with their own kitchenette featuring a fridge. With its close proximity to various attractions such as Snowdon Mountain Railway, Llandudno Pier, Bodelwyddan Castle, and Bodnant Garden, Woodlands Centre is an excellent choice for travelers looking to explore the beauty of North Wales.
– Convenient location near Snowdon
– Beautiful garden and terrace
– Free private parking
– Access to outdoor activities like hiking and cycling
– Well-equipped rooms with shared or private kitchenettes (depending on room type)
Tafarn Yr Heliwr (Nefyn)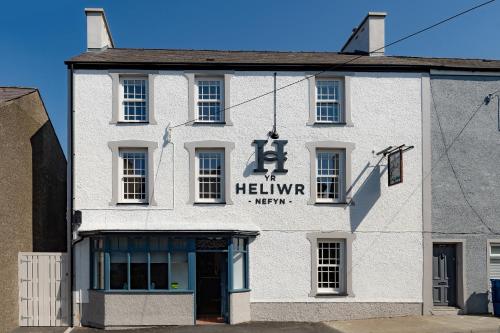 Tafarn Yr Heliwr is a charming hostel located in Nefyn, offering guests a comfortable stay with its bar and free WiFi. Situated just 35 km from Portmeirion and 43 km from Snowdon Mountain Railway, the property provides easy access to nearby attractions. The hostel features guest rooms equipped with a kettle and a private bathroom, complete with a hairdryer and bed linen. Guests can enjoy evening entertainment and make use of the shared kitchen facilities. Each morning, a delicious continental breakfast is available for guests to start their day. For those interested in exploring further, Criccieth Castle and Criccieth Golf Club are both within 24 km of the accommodation. Anglesey Airport is the nearest airport, located 71 km away.
Pros:
– Convenient location near popular attractions
– Free WiFi for guests to stay connected
– Shared kitchen facilities for added convenience
– Evening entertainment provided for guests' enjoyment
– Delicious continental breakfast served each morning
Information about Hostels in Wales
| | |
| --- | --- |
| 🏢 Number of Hostels in Wales | 9 |
| 🥇 Average Review Score | 8.8/10 |
| 💰 High season average price | 166 |
| 💸 Low season average price | 41.5 |
FAQ
Can I find hostels in Wales?
Yes, there are hostels available in various cities and towns throughout Wales. From Cardiff to Swansea to Bangor, you can easily find budget-friendly accommodation options that cater specifically to travelers looking for a hostel experience. These hostels often offer shared dormitory-style rooms or private rooms at affordable prices, making them a great choice for backpackers or those on a tight budget.
Are hostels in Wales safe?
Yes, hostels in Wales generally prioritize the safety and security of their guests. They have measures in place such as secure lockers, CCTV cameras, and restricted access to ensure the safety of belongings and individuals. Additionally, many hostels have staff members available 24/7 who can assist with any concerns or emergencies that may arise during your stay. It's always important to exercise common sense and take necessary precautions while traveling.
What facilities can I expect at a hostel in Wales?
Hostels in Wales typically offer basic amenities such as communal kitchen facilities where you can prepare your meals, shared common areas for socializing or relaxing, and free Wi-Fi access. Some larger hostels may also provide additional features like laundry facilities, luggage storage options, or even an on-site bar or restaurant. It is advisable to check the specific hostel's website or contact them directly for detailed information about the facilities they offer.
How do I book a hostel in Wales?
Booking a hostel in Wales is relatively easy with numerous online platforms available where you can search for and make reservations at various hostels across the country. Websites like Hostelworld.com or Booking.com allow you to browse through different options based on location, price range, reviews from previous guests, and other filters that suit your preferences. Once you've found a suitable hostel, simply follow the booking instructions provided on these platforms.
Are there age restrictions at hostels in Wales?
Many hostels in Wales have age restrictions in place, especially for dormitory-style rooms. Some hostels only allow individuals above a certain age (often 18 or 21) to stay in shared dorms, while others may have separate dorms exclusively for younger travelers. However, private rooms are usually available for guests of all ages. It's important to check the hostel's policy regarding age restrictions before making a reservation to ensure you meet the requirements.
Popular Hostels destinations