Welcome to the enchanting region of Tuscany, Italy, where the charm of ancient towns merges seamlessly with breathtaking landscapes. If you're craving an authentic and budget-friendly experience, look no further than the delightful hostels scattered throughout this picturesque region. From vibrant cities like Florence and Siena to the idyllic countryside dotted with vineyards and olive groves, Tuscany offers a diverse range of hostel options that are sure to cater to every traveler's taste.
Immerse yourself in the rich history and artistry of Tuscany while staying at one of its charming hostels. Accommodation here goes beyond just a place to rest your head; it acts as a gateway into the heart and soul of this captivating region. Whether you prefer a cozy hostel tucked away on a medieval street or one overlooking rolling hills adorned with sunflowers, you'll find countless options that promise coziness, affordability, and social interactions with fellow travelers from around the globe.
Intrigued by Tuscan cuisine? Hostels in this region not only provide comfortable lodgings but also offer opportunities for food enthusiasts to indulge in authentic Italian flavors. Get ready for culinary delights such as fresh pasta drizzled with locally sourced olive oil or mouthwatering pizzas cooked in traditional wood-fired ovens. With their warm hospitality and insider knowledge about local hotspots, hostel staff are always happy to recommend hidden gems where you can savor delectable regional specialties.
So pack your bags, grab your camera, and embark on an unforgettable journey through Tuscany's hostels – where affordable accommodation meets enriching experiences amidst Italy's timeless beauty!
Best Tuscany Hostels
Eliopoli Beach Hostel & Restaurant (Tirrenia)
Eliopoli Beach Hostel & Restaurant is a charming accommodation option located in Tirrenia. The hostel boasts an on-site bar, restaurant, and garden, providing guests with plenty of opportunities for relaxation and enjoyment. The convenient location of the hostel allows easy access to Livorno Train Station, which is just a 15-minute drive away. Free WiFi is available throughout the property. Each unit offers delightful garden views and comes equipped with private lockers for added security. Guests can choose between shared or private bathrooms depending on their preferences. Additionally, the stunning city of Pisa is only 20 km away, making it a perfect day trip destination for exploring its iconic attractions.
Pros:
– On-site bar and restaurant for convenience
– Beautiful garden area to relax and unwind
– Free WiFi provided throughout the property
– Private lockers offer added security for personal belongings
– Close proximity to Livorno Train Station makes transportation a breeze
'RE-Dama Hostel
Located in the beautiful city of Florence, 'RE-Dama Hostel is a newly opened accommodation option that provides comfort and convenience to its guests. Situated within 1 km of Fortezza da Basso – Convention Center and 3 km of Santa Maria Novella, this hostel offers a fantastic location for exploring the city's attractions. The property features a shared lounge and a terrace, perfect for socializing or relaxing after a day of sightseeing.
One of the highlights of 'RE-Dama Hostel is its free WiFi, allowing guests to stay connected throughout their stay. The hostel also offers family rooms, making it ideal for travelers with children or larger groups. Each room comes with a balcony and private bathroom equipped with a bidet and hairdryer. Additionally, all units are air-conditioned and come with a desk.
In the morning, guests can enjoy a delicious buffet breakfast with continental or Full English/Irish options available to start their day off right. The multilingual staff at the reception speaks German, English, Spanish, and French and is always ready to provide practical information about the area.
The hostel's location makes it easy to explore popular landmarks such as San Marco Church in Florence, Accademia Gallery, Strozzi Palace, Piazza del Duomo di Firenze, and Piazza della Signoria. Florence Airport is conveniently located just 7 km away from 'RE-Dama Hostel.
Pros:
– Newly opened accommodation
– Convenient location near popular attractions
– Free WiFi throughout the property
– Family rooms available
– Multilingual staff offering practical information on the area
My Friends (Florence)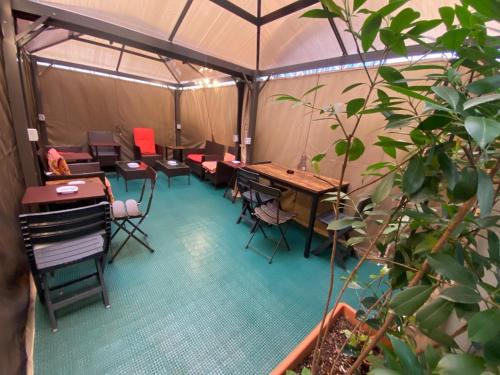 Located just 450 meters from Santa Maria Novella Train Station in Florence, My Friends offers comfortable accommodation with free WiFi. The hotel is conveniently situated only a few steps away from the Florence Congress Centre and just 1 km from the famous Piazza della Signoria square. The classic-style rooms at My Friends are all equipped with air conditioning and feature either private or shared bathrooms, including free toiletries. Guests can easily explore the city, as Florence's iconic Duomo Cathedral is just 650 meters away. For those arriving by plane, Florence Airport is a short 15-minute drive from the hotel.
– Conveniently located near Santa Maria Novella Train Station
– Free WiFi available for guests
– Air-conditioned rooms for added comfort
– Private and shared bathrooms with complimentary toiletries
– Close proximity to major attractions such as the Duomo Cathedral and Piazza della Signoria.
Other places to stay in Tuscany
Family Friendly Hostels
Family-friendly hostels provide a comfortable and budget-friendly accommodation option for families traveling with children. These hostels offer spacious rooms or private family rooms to accommodate the entire family, along with shared kitchen facilities to prepare meals and save on dining expenses. Family-friendly hostels also typically have communal spaces where families can relax and socialize, as well as play areas or game rooms to keep kids entertained. With their welcoming atmosphere and affordable prices, family-friendly hostels are an excellent choice for families looking to make lasting memories while exploring new destinations.
La Mandola eco Hostel (Capraia)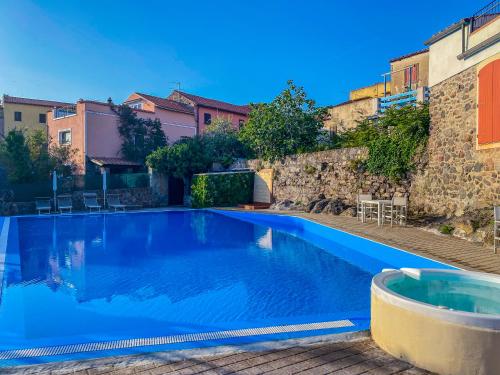 La Mandola eco Hostel in Capraia offers a range of amenities for a comfortable stay. Guests can relax by the seasonal outdoor swimming pool or take a stroll in the beautiful garden. The hostel also features a shared lounge and terrace, perfect for socializing or enjoying the scenic views. The rooms are equipped with air conditioning, wardrobe, and flat-screen TVs. Some rooms even have balconies to enjoy the fresh air. Guests can start their day with an Italian breakfast before exploring the hiking trails in and around Capraia. For those arriving by plane, Pisa International Airport is 92 km away.
– Seasonal outdoor swimming pool.
– Beautiful garden.
– Shared lounge and terrace.
– Air-conditioned rooms with flat-screen TVs.
– Italian breakfast served daily.
Ostello Orma del Lupo (Loro Ciuffenna)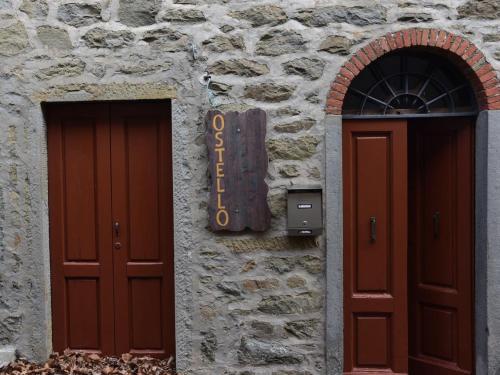 Located in the charming town of Loro Ciuffenna, Ostello Orma del Lupo offers a comfortable and affordable stay for travelers. The hostel features concierge services, non-smoking rooms, and a beautiful garden where guests can relax. With free WiFi available throughout the property and barbecue facilities on-site, guests can enjoy a convenient and enjoyable stay. The hostel also provides a shared kitchen, tour desk, and luggage storage for added convenience. The rooms are equipped with coffee machines and all have access to shared bathrooms fitted with showers. For those looking to explore the area, the hostel offers bike hire as cycling is popular in the region. Florence Airport is just 69 km away, making it easily accessible for travelers. Nearby attractions include Piazza Grande (37 km), The Mall Luxury Outlet (39 km), and Piazza Matteotti (46 km).
– Affordable rates
– Beautiful garden
– Free WiFi
– Shared kitchen
– Bike hire available
Information about Hostels in Tuscany
| | |
| --- | --- |
| 🏢 Number of Hostels in Tuscany | 5 |
| 🥇 Average Review Score | 8.8/10 |
| 💰 High season average price | 1292 |
| 💸 Low season average price | 323 |
FAQ
What are the best hostels in Tuscany?
Tuscany, being a popular tourist destination, offers several excellent hostels for travelers. Some of the best hostels in Tuscany include Plus Florence and Academy Hostel in Florence, Ostello del Chianti in Siena, and Ostello Bello in Pisa. These hostels provide comfortable accommodation at affordable prices with various amenities such as free Wi-Fi, common areas to socialize with other guests, and convenient locations close to popular attractions.
Are there private rooms available in Tuscany hostels?
Yes, many hostels in Tuscany offer private rooms along with dormitory-style accommodations. Private rooms are perfect for those who prefer more privacy or are traveling as a couple or a family. These rooms usually come with en-suite bathrooms and provide a comfortable space to relax after a day of exploring the beautiful cities and countryside of Tuscany.
What facilities do Tuscany hostels offer?
Tuscany hostels generally offer a range of facilities to ensure their guests have an enjoyable stay. Common facilities found in most hostels include communal kitchens where guests can prepare meals, shared lounge areas for socializing or relaxing, laundry facilities for convenience, luggage storage options for early arrivals or late departures, and 24-hour reception desks to assist with any queries or requests.
Do Tuscany hostels organize tours or activities?
Yes! Many hostels in Tuscany organize tours and activities for their guests. These may include wine tours through the famous vineyards of Chianti, cooking classes where you can learn how to make authentic Italian dishes using local ingredients, walking tours around historic city centers like Florence or Siena guided by knowledgeable locals who can share fascinating insights about the region's history and culture.
Is it necessary to book a hostel room in advance?
While it is not always necessary to book a hostel room in advance, it is highly recommended, especially during peak tourist seasons. Tuscany attracts a large number of visitors throughout the year, so securing your accommodation ahead of time ensures that you have a place to stay and avoid any last-minute disappointments. Booking in advance also allows you to choose from a wider range of options and secure better deals on room rates.
Popular Hostels destinations