Welcome to the stunning island of Tasmania, Australia's hidden gem and a paradise for backpackers and budget travelers alike. In this guide, we will delve into the vibrant world of hostels in this picturesque region, providing you with all the information you need to make your stay unforgettable. From snug lodgings nestled amidst breathtaking landscapes to lively communal spaces that foster connections with fellow adventurers, Tasmanian hostels offer an immersive experience like no other.
Prepare to be captivated by the diversity that Tasmania has to offer. Whether you crave the rugged wilderness of Cradle Mountain or yearn for the historic charm of Hobart's waterfront district, hostels throughout the island cater to a range of interests and budgets. Discover cozy dormitories adorned with vibrant artwork, or opt for private rooms boasting stunning views over sandy beaches and dense forests. With their wallet-friendly prices and convenient locations close to popular attractions, these accommodations provide an ideal base for exploring all that Tasmania has in store.
So grab your backpacks, lace up your hiking boots, and join us as we embark on an adventure through Tasmania's incredible hostel scene. From tips on finding the perfect hostel that suits your needs to insider guides on must-visit destinations in each region, our comprehensive coverage will ensure you have everything at your fingertips. Get ready to create lifelong memories while immersing yourself in nature's beauty and connecting with fellow travelers from around the globe – because when it comes to hostels in Tasmania, every moment is a chance for extraordinary experiences.
Best Tasmania Hostels
Backpackers Imperial Hotel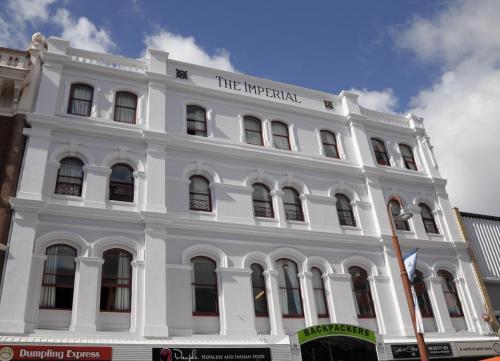 Located in the heart of Hobart CBD, Backpackers Imperial Hotel is a convenient choice for travelers looking to explore the city. With its prime location just 100 meters from the Hobart City Bus Station, guests have easy access to public transportation. The hotel is also within walking distance of Salamanca Place, known for its famous Saturday Market. Housed in the historic Imperial Building, which dates back to 1870, this hotel offers a unique blend of history and modern comfort. The property features free WiFi throughout the building and a range of accommodation options including private rooms and dormitories. All rooms have access to shared bathroom facilities. Guests can relax in the guest lounge with comfortable sofas and a widescreen TV or cook their own meals in the large shared kitchen and dining area. With cafes, shops, museums, and transport options all within 200 meters of the hotel, guests will have everything they need at their doorstep.
– Prime location in Hobart CBD
– Free WiFi throughout the building
– Close proximity to Salamanca Place and Saturday Market
– Range of accommodation options available
– Convenient access to cafes, shops, museums, and transport options
Happy Backpacker (Penguin)
Located just a 12-minute walk from Johnsons Beach, Happy Backpacker (Penguin) is a hostel that offers free Wi-Fi and an onsite bar/restaurant. Guests can socialize in the shared lounge or prepare meals in the shared kitchen. The hostel is conveniently situated, with Sulphur Creek just a 5-minute drive away and Burnie a 17-minute drive away. Devonport can be reached in 25 minutes by car, and Launceston is a 1-hour and 25-minute drive away. All heated rooms at Happy Backpacker come with towels and linen provided, as well as access to shared bathroom facilities. Additional amenities include secure lockers and a TV in the shared lounge.
– Free Wi-Fi
– Onsite bar/restaurant
– Shared lounge for socializing
– Access to shared kitchen for meal preparation
– Convenient location near various attractions
Launceston Backpackers (Launceston)
Located just 2 minutes' walk from the city centre, Launceston Backpackers is a convenient and budget-friendly option for travelers visiting Launceston. The hostel offers a shared kitchen and communal lounge area where guests can unwind after a long day of exploring. Free WiFi vouchers are provided for guests to stay connected during their stay. The tour desk at the hostel can help arrange exciting wilderness trips to Cradle Mountain, perfect for adventure seekers. Laundry and luggage storage facilities are available on site, adding convenience to your stay. Plus, with its close proximity to Aurora Stadium, City Park, and The University of Tasmania all less than 10 minutes' drive away, you'll have plenty of attractions within easy reach. Launceston Airport is just a short 15-minute drive away.
– Convenient location near the city centre
– Shared kitchen and communal lounge area
– Free WiFi vouchers provided
– Tour desk for arranging wilderness trips to Cradle Mountain
– Laundry and luggage storage facilities available onsite
Other places to stay in Tasmania
Family Friendly Hostels
Family Friendly Hostels are a great option for families looking to explore and experience the world on a budget. These hostels offer comfortable and spacious accommodations suitable for families with kids of all ages. With various room options such as private rooms or dormitory-style rooms, families can find the perfect fit for their needs. Family friendly hostels also provide common areas where parents and children can relax and socialize, creating a welcoming and inclusive atmosphere. Additionally, many family friendly hostels offer amenities such as kitchen facilities, laundry services, and even play areas or game rooms for children to enjoy. Whether it's exploring new destinations or meeting fellow travelers from around the world, family friendly hostels provide an affordable yet enjoyable travel experience for families on the go.
Hobart Central YHA
Hobart Central YHA is a conveniently located hostel, just one block away from Hobart's waterfront and the airport shuttle bus stop. The property offers a range of facilities including a tour desk, shared kitchen, and a reading/study area. Guests can make use of the coin-operated laundry, luggage storage, and bike storage facilities. Private rooms are equipped with amenities such as TV, heater, tea/coffee making facilities, and private bathrooms. Shared rooms offer comfortable beds and access to shared bathrooms. Guests can also enjoy free weekly activities organized by the hostel. Additionally, Hobart Central YHA is situated across the road from the Tasmanian Museum and Art Gallery and is within walking distance (less than 10 minutes) of historic Salamance Place.
– Convenient location near the waterfront
– Wide range of facilities including a tour desk
– Private rooms with TV and private bathroom
– Free weekly activities for guests
– Proximity to Tasmanian Museum and Art Gallery
SJ Hostel (Legana)
SJ Hostel in Legana offers comfortable accommodation with free WiFi and a terrace. Located just 11 km from Launceston, the hostel provides convenient access to nearby attractions. Guests can make use of the shared kitchen and enjoy free WiFi in the lounge area. The Legana Shopping Centre is only a 4-minute drive away, offering a range of amenities including supermarkets, shops, cafes, and restaurants. The hostel also provides coin-operated laundry facilities and some rooms have a seating area. The friendly reception staff are always available to provide information on nearby attractions. SJ Hostel is conveniently situated a short drive from the Tamar Island Wetlands and Cataract Gorge Reserve, making it an ideal choice for nature lovers. With Tasmania being just a 2-hour drive away, guests can easily explore all that this beautiful region has to offer. Additionally, SJ Hostel is located 25km from Launceston Airport.
– Free WiFi available
– Terrace for relaxation
– Convenient location near shops and restaurants
– Coin-operated laundry facilities
– Friendly reception staff providing information on nearby attractions
Arthouse Hostel (Launceston)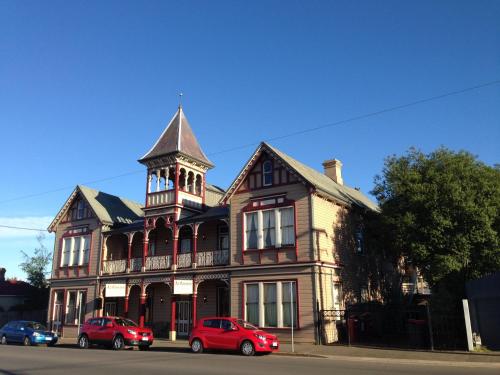 Arthouse Hostel, built in 1888, offers a charming and historic accommodation option in Launceston. Located on the banks of the North Esk River, it is conveniently situated between the picturesque Seaport and Queen Victoria Museum & Art Gallery. The hostel is just a 23-minute walk away from Cataract Gorge Reserve and City Park, making it an ideal choice for nature enthusiasts. Additionally, popular attractions such as Boags Brewery and Launceston Tramway Museum are only 200 meters away. The vibrant Launceston City Centre with its diverse range of shops, restaurants, and cafes can be reached within a pleasant 15-minute stroll. All rooms at Arthouse Hostel feature shared bathrooms while guests also have access to the shared kitchen facilities provided onsite.
Pros:
– Convenient location near popular attractions like Cataract Gorge Reserve and Boags Brewery
– Charming historic building with a riverside setting
– Access to shared kitchen facilities
– Close proximity to Launceston City Centre's shops, restaurants, and cafes
– Budget-friendly accommodation option with shared bathroom facilities
Cheap Hostels in Tasmania
Tasmania, known for its breathtaking landscapes and outdoor adventures, offers a range of budget-friendly hostels that cater to the backpacker community. With their welcoming atmosphere and affordable prices, cheap hostels in Tasmania provide an ideal base for travelers looking to explore this stunning island. Whether you're hiking through national parks, exploring charming small towns, or spotting unique wildlife, these hostels offer basic yet comfortable accommodations that allow you to save money without compromising on location or local experiences. So grab your backpack and get ready to immerse yourself in the beauty of Tasmania while staying at one of its affordable hostels.
The Pickled Frog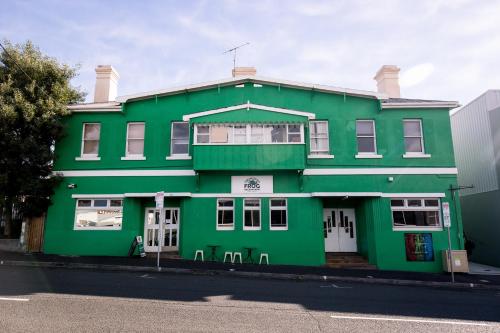 Located in the heart of Hobart, The Pickled Frog is a 3-star hostel that offers a range of amenities for its guests. With a shared lounge, free WiFi, and an on-site bar, this hostel provides comfort and entertainment for travelers. It also features barbecue facilities for those looking to enjoy a delicious outdoor meal. For those who enjoy activities, The Pickled Frog offers darts and is situated in an area popular for hiking. Close to the hostel are popular attractions such as Short Beach, Hobart Convention And Entertainment Centre, and Theatre Royal. The accommodation also provides evening entertainment and has a shared kitchen available for guest use. Certain rooms even offer a kitchenette with essential appliances like a fridge, oven, and stovetop. With Hobart Airport just 19 km away, The Pickled Frog is well-situated to accommodate travelers from near and far.
Pros:
– Convenient central location
– Free WiFi
– On-site bar
– Shared kitchen facilities
– Evening entertainment available
Information about Hostels in Tasmania
| | |
| --- | --- |
| 🏢 Number of Hostels in Tasmania | 7 |
| 🥇 Average Review Score | 7.2/10 |
| 💰 High season average price | 344 |
| 💸 Low season average price | 86 |
FAQ
1. What are the most popular hostels in Tasmania?
Tasmania offers a range of popular hostels, catering to different preferences and budgets. The Pickled Frog Backpackers in Hobart is a well-known choice, offering a cozy atmosphere and affordable dormitory rooms. The Launceston Backpackers is another favorite, located near major attractions in Launceston and boasting spacious communal areas. For those seeking a unique experience, the James Boag's Brewery Hostel in Devonport provides accommodation within a historic brewery building.
2. How can I book a hostel in Tasmania?
Booking a hostel in Tasmania is easy and convenient. You can either book directly through the hostel's website or use reliable online booking platforms such as Hostelworld or Booking.com. These platforms provide detailed information about each hostel, including prices, amenities, and reviews from previous guests. It is recommended to book your hostel accommodation well in advance, especially during peak travel seasons.
3. Are private rooms available at hostels in Tasmania?
Yes, many hostels in Tasmania offer private rooms alongside dormitory-style accommodations. Private rooms provide more comfort and privacy for couples or travelers who prefer their own space but still want to enjoy the social aspects of staying at a hostel. Some private rooms even come with ensuite bathrooms, giving you an added convenience during your stay.
4. Do hostels provide kitchen facilities for self-catering?
Most hostels in Tasmania offer shared kitchen facilities for guests to prepare their own meals. This is not only budget-friendly but also allows travelers to experience local markets and try cooking Tasmanian produce themselves. Equipped with cooking utensils and appliances such as stovetops, microwaves, and fridges, these communal kitchens are perfect for whipping up breakfasts or dinners while interacting with fellow travelers.
5. Are there any age restrictions when staying at hostels in Tasmania?
Age restrictions may vary between hostels in Tasmania. While some hostels have a minimum age requirement of 18 or 21, others are more inclusive and welcome guests of all ages. It is important to check the specific policies of each hostel before making a booking, especially if you are traveling with younger companions or prefer a quieter atmosphere during your stay.
Popular Hostels destinations