Welcome to the vibrant city of Munich, Germany! If you're looking for a budget-friendly and sociable accommodation option, look no further than the hostels in this bustling Bavarian city. Whether you're a solo traveler ready to meet fellow adventurers or a group of friends seeking an affordable place to stay, Munich's hostels provide the perfect blend of convenience, comfort, and camaraderie.
Hostels in Munich offer a myriad of exciting possibilities for travelers. These economical lodgings cater to all types of globetrotters – from backpackers on a tight budget to digital nomads looking for a unique work-play environment. With their funky decor, lively common areas, and an assortment of room options including dormitories and private suites, these establishments ensure that every traveler can find an accommodation that suits their needs. In addition to pocket-friendly rates, many hostels also organize social events such as pub crawls and city tours, enabling guests to experience the best of Munich while forging friendships with like-minded individuals from around the world.
So if you're ready to embark on an unforgettable adventure in Munich without breaking the bank, join us as we explore the top hostels this captivating city has to offer. From modern design concepts to historic buildings boasting traditional charm, these accommodations will undoubtedly enhance your travel experience while ensuring lasting memories and new connections with fellow travelers along the way.
Best Munich Hostels
Jaeger´s Munich
Located just a few steps from Munich Main Station, Jaeger's Munich is a traditional Bavarian hotel that offers comfortable and non-smoking rooms with air conditioning. With its 24-hour reception, guests can enjoy free services such as maps of Munich and a guided tour in English or Spanish. The hotel also provides free WiFi throughout the property. Guests can start their day with a delicious breakfast buffet and indulge in a selection of beer and cold non-alcoholic beverages in the typical Bavarian style lobby. Amenities such as an iron, iron board, umbrella, and hairdryer are available at the reception for guests' convenience. In addition to its convenient location near bars, cafes, restaurants, and Munich's main shopping streets, Jaeger's is also within walking distance to the Oktoberfest beer festival grounds.
– Centrally located near Munich Main Station
– Free maps of Munich and guided tours available
– Free WiFi throughout the hotel
– Delicious breakfast buffet and selection of beverages offered
– Convenient amenities available at the reception
Jugendherberge München City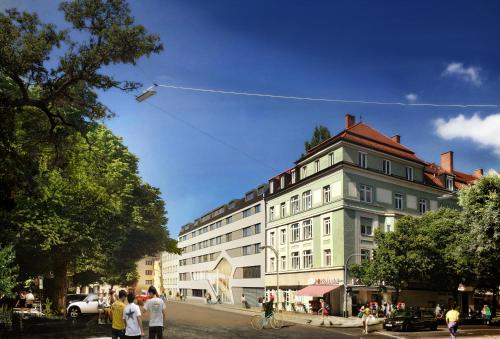 Located in Munich, Jugendherberge München City is a hostel that offers shared lounge areas, non-smoking rooms, and free WiFi throughout the property. The hostel also has a bar for guests to enjoy. Conveniently situated within a few kilometers from popular attractions such as Lenbachhaus, Konigsplatz, Central Station Munich, Alte Pinakothek, Olympiapark, and Karlsplatz (Stachus), this hostel is an ideal base for exploring the city. The reception staff can assist guests in both German and English. Additionally, the hostel provides a buffet breakfast for its guests. Nymphenburg Palace and Pinakothek der Moderne are also within close proximity to the property. The nearest airport is Munich Airport which is 41 km away.
– Shared lounge areas
– Non-smoking rooms
– Free WiFi throughout the property
– Bar on-site
– Buffet breakfast available
THE 4YOU Hostel & Hotel Munich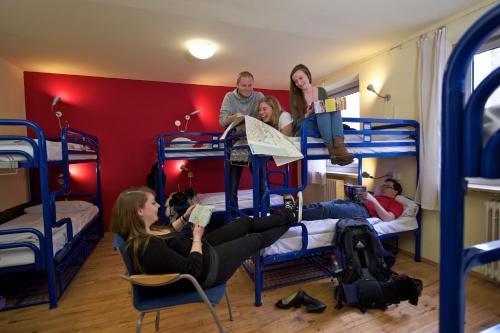 Located just a 3-minute walk from Munich Train Station, THE 4YOU Hostel & Hotel Munich offers modern and environmentally friendly accommodation. The hotel features brightly decorated rooms with wooden flooring, cable TV, and either a private or shared bathroom. Guests can enjoy daily breakfast buffets and access to internet in the lobby. THE 4YOU Hostel & Hotel Munich also offers a wide range of sightseeing tours and leisure activities in and around Munich. Additionally, private parking is available nearby. Within walking distance of the hotel is Karlsplatz, while Oktoberfest can be easily reached within a 10-minute ride on public transportation.
– Conveniently located near Munich Train Station
– Modern rooms with cable TV
– Daily breakfast buffets included
– Offers various sightseeing tours and leisure activities
– Close proximity to Karlsplatz and Oktoberfest via public transport
Other places to stay in Munich
Family Friendly Hostels
Family friendly hostels are the perfect accommodation option for those traveling with children. These hostels have created a welcoming and safe environment that caters specifically to the needs of families. With spacious family rooms, communal areas for socializing, and various activities designed for all ages, families can enjoy a comfortable and enjoyable stay. From playrooms and outdoor playgrounds to organized tours and family-friendly amenities, these hostels ensure that both parents and children have an unforgettable experience during their travels. So whether you're exploring a new city or embarking on an adventure-filled vacation, family friendly hostels provide a budget-friendly option without compromising on comfort or convenience.
Oktoberfest Festival Hostel
Located in the Trudering-Riem district of Munich, Oktoberfest Festival Hostel is a popular choice for budget travelers. This hostel offers convenient access to various attractions, such as München Ost Train Station, Bavarian National Museum, and Bavarian State Opera. The property provides an ATM and luggage storage facilities, as well as free WiFi throughout. The rooms are simple yet comfortable with desks and bed linen provided. Guests can enjoy cycling and other activities in the area. The multilingual reception staff is always ready to provide helpful advice about the local area. With its non-smoking policy and proximity to ICM-Internationales Congress Center Munich, this hostel appeals to both leisure and business travelers. Munich Residence and Deutsches Museum are also within easy reach. Munich Airport is located 35 km away.
Pros:
– Convenient location in the Trudering-Riem district
– Free WiFi throughout the property
– Helpful multilingual reception staff
– Non-smoking policy
– Proximity to ICM-Internationales Congress Center Munich
THE TENT – Youth Only – Buchung leider nur bis 30 Jahre möglich!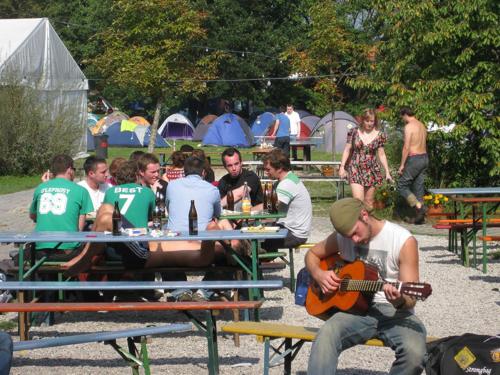 Located in Munich, THE TENT – Youth Only offers a unique accommodation experience in a big tent. Please note that there is an age restriction of 30 years if you book through booking.com. This hostel, run by the city of Munich, provides various recreational activities such as beach volleyball, table tennis, and darts. Additionally, guests can rent bikes and enjoy the lively atmosphere at the piano-bar. THE TENT is situated in a beautiful green park and is only a 15-minute tram ride away from the city center. Guests have access to shared bathroom and kitchen facilities along with free WiFi throughout the property. The hostel also features a 24-hour front desk and organizes campfires every evening. Attractions like Olympiapark and BMW Welt are nearby, making it convenient for travelers to explore Munich's landmarks.
Pension Anna – Monteurzimmer
Located in the Schwanthalerhöhe district of Munich, Pension Anna – Monteurzimmer is an ideal choice for travelers looking to explore the city. Conveniently situated near many popular landmarks and attractions, including Central Station Munich and Karlsplatz (Stachus), guests will have easy access to a variety of destinations. The hostel is also within close proximity to Lenbachhaus, Sendlinger Tor, Frauenkirche, Konigsplatz, Asamkirche, Marienplatz, Mariensäule, and Rathaus-Glockenspiel. With Munich Airport just 40 km away, Pension Anna – Monteurzimmer offers convenience for those arriving by air.
Cheap Hostels in Munich
Munich, the vibrant capital of Bavaria, offers a range of cheap hostels that cater to budget-conscious travelers. These affordable accommodations provide comfortable and convenient options for those looking to explore the city without breaking the bank. With their central locations and proximity to public transportation, these hostels make it easy for visitors to experience Munich's rich history, cultural attractions, and famous beer gardens. Whether you're a solo backpacker or traveling in a group, Munich's cheap hostels offer a great way to save money while enjoying all that this dynamic city has to offer.
a&o München Hackerbrücke
The a&o München Hackerbrücke is conveniently located just one train stop from Munich Central Station and a short 7-minute drive from the Theresienwiese Oktoberfest grounds. This hotel offers the perfect blend of comfort and affordability with both hotel and hostel rooms on different levels. Guests can enjoy free Wi-Fi in all rooms and public areas, making it easy to stay connected during your stay. The Donnersbergerbrücke Train Station is just 500 meters away, providing excellent public transport connections throughout Munich. In the evenings, you may even catch some exciting events taking place in the lobby. For sports enthusiasts, satellite TV broadcasting various sport channels can be found in both the lobby and bar area. Start off your day with a delicious breakfast buffet served each morning before exploring all that Munich has to offer. With its prime location, this hotel is surrounded by bars, restaurants, and traditional beer gardens, ensuring that you won't have to venture far for some great food and drink options.
Information about Hostels in Munich
| | |
| --- | --- |
| 🏢 Number of Hostels in Munich | 7 |
| 🥇 Average Review Score | 7.1/10 |
| 💰 High season average price | 1796 |
| 💸 Low season average price | 449 |
FAQ
Are hostels a good option for budget travelers in Munich?
Yes, hostels are definitely a great option for budget travelers in Munich. They offer affordable accommodation options that cater to the needs of backpackers and those looking to save money on their trip. Hostels provide dormitory-style rooms where guests can share a room with other travelers, significantly reducing the cost compared to hotels or private accommodations.
What amenities can I expect at hostels in Munich?
Hostels in Munich generally offer basic amenities such as shared bathrooms, communal kitchens, and common areas where guests can socialize and relax. Some hostels may also have additional facilities like bars or cafes, laundry services, luggage storage, and free Wi-Fi. It's always a good idea to check the specific hostel's website or contact them directly to know what amenities they provide.
How do I choose the right hostel in Munich?
When choosing a hostel in Munich, there are several factors to consider. First, determine your budget and preferred location within the city. Look for reviews from previous guests to get an idea of the hostel's cleanliness, atmosphere, and staff friendliness. Consider whether you prefer a party-oriented atmosphere or a more quiet and relaxed environment. Lastly, take into account any specific requirements you may have such as lockers for valuables or 24-hour reception service.
Are hostels safe in Munich?
Generally speaking, hostels in Munich are safe for travelers. However, it is always important to take necessary precautions while staying at any type of accommodation. Most hostels provide lockers where you can store your valuable belongings securely and many have 24-hour reception desks where staff can assist with any concerns or emergencies that might arise during your stay.
Is it necessary to book ahead when planning to stay at a hostel in Munich?
It is highly recommended to book ahead if you plan on staying at a hostel in Munich, especially during peak travel seasons or popular events. Munich is a popular tourist destination and hostels can fill up quickly, so reserving your accommodation in advance ensures that you have a guaranteed place to stay. Additionally, booking ahead allows you to compare prices and choose the best hostel option for your needs.
Popular Hostels destinations