Welcome to the City of Angels! If you're a budget-conscious traveler looking for affordable accommodation options in Los Angeles, then look no further than the vibrant world of hostels. Whether you're a solo backpacker itching to explore Hollywood's Walk of Fame or a group of friends seeking beachside adventures in Venice Beach, there's a hostel here to suit every wanderlust-filled soul.
Hostels in the sprawling metropolis are not just about saving money; they offer an incredible opportunity to meet fellow adventurers from all corners of the globe. With their communal spaces and shared dormitories, hostels often foster a sense of camaraderie and create lasting memories through impromptu conversations and spontaneous outings. Forget about the impersonal hotel experience – staying at a hostel means immersing yourself in an atmosphere that celebrates diversity, creativity, and cultural exchange.
Los Angeles boasts an array of hostels that cater to your specific needs. From trendy boutique-style accommodations with modern amenities near downtown LA to cozy beachfront havens boasting breathtaking views along the Pacific Coast Highway – you'll find options galore. So whether you're here for star-studded glamour or sandy shores, experiencing LA's vibrant hostel scene is sure to add an exciting twist to your stay while keeping your wallet happy along the way.
Best Los Angeles Hostels
Orange Drive Hostel
Located just a 4-minute walk from the famous Dolby Theater, Orange Drive Hostel is an ideal choice for travelers looking to explore the heart of Hollywood. This budget-friendly hostel offers free WiFi and is conveniently situated near major attractions including the Hollywood Bowl and Capitol Records. With a variety of non-smoking room options available, including dorm rooms, private rooms, and group rooms, guests can choose their preferred accommodation style. The hostel also provides useful amenities such as laundry facilities, on-site lockers, and a common room for socializing. Additionally, guests have the opportunity to purchase tickets to local attractions directly from the property. For those arriving by air, Hollywood Burbank Airport is 11 km away. Plus, the iconic Hollywood Walk of Fame is only a 4-minute walk from Orange Drive Hostel.
Pros:
– Excellent location near popular attractions
– Free WiFi for staying connected
– Various non-smoking room types available
– Useful amenities like laundry facilities and lockers
– Ticket sales for convenient access to local attractions
HI Los Angeles – Santa Monica Hostel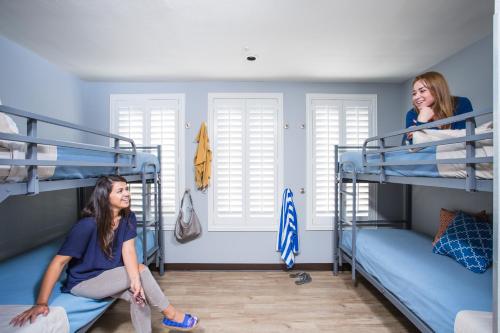 HI Los Angeles – Santa Monica Hostel is the largest purpose-built hostel in the United States, offering affordable dormitory accommodation. Located just steps away from the beautiful beaches of Santa Monica, Malibu, and Venice, as well as the vibrant Third Street Promenade with its plethora of shops, theaters, galleries, eateries, and pubs. This hostel is ideally situated to explore all that Los Angeles has to offer. With easy access to all bus lines in Los Angeles, guests can easily embark on city tours or visit popular attractions such as movie star homes, Disneyland, Universal Studios, Hollywood landmarks and more. Additionally, the hostel's proximity to world-class museums like the Getty Center Museum and Getty Villa Museum allows visitors to indulge in art while enjoying stunning views of the Pacific Ocean.
Pros:
– Convenient location near popular beaches and attractions
– Affordable dormitory accommodation
– Easy access to public transportation
– Proximity to a vibrant shopping and entertainment district
– Close proximity to renowned museums with breathtaking views
The California – Hollywood
Located in the heart of Los Angeles, just 1.4 km from Capitol Records Building, The California – Hollywood is a comfortable and convenient hostel option. It offers air-conditioned accommodation and a tranquil garden for guests to enjoy. The property is also ideally situated near several popular attractions, including Dolby Theater (2.6 km), Hollywood Bowl (3 km), and Hollywood Sign (3.9 km). The nearest airport, Hollywood Burbank Airport, is just 12 km away.
Guests at The California – Hollywood can expect clean and cozy guest rooms equipped with a coffee machine for their convenience. The hostel also provides free WiFi throughout the property and shared bathroom facilities with showers and hairdryers. Bed linen and towels are provided in all rooms.
For added convenience, the hostel features a shared kitchen where guests can prepare their own meals during their stay. There is also luggage storage available on-site.
If you're looking to explore further afield, Universal Studios Hollywood is located just 5.4 km away from the hostel, while Griffith Observatory is only 5.8 km away.
– Convenient location in central Los Angeles
– Tranquil garden for relaxation
– Clean and cozy guest rooms
– Free WiFi throughout the property
– Shared kitchen for self-catering options
Other places to stay in Los Angeles
Family Friendly Hostels
Family friendly hostels are a popular accommodation option for budget-conscious travelers with kids. These hostels offer a warm and welcoming environment, providing spacious family rooms or private dorms that can accommodate parents and children comfortably. With facilities like communal kitchens, laundry services, and common areas for socializing, families can enjoy the convenience of home while on vacation. Many family-friendly hostels also organize activities and tours specifically designed for children, ensuring that little ones are entertained throughout their stay. Whether it's playing board games in the common room or exploring nearby attractions together, these hostels provide an affordable yet enjoyable experience for families looking to create lasting memories during their travels.
Melrose Hostel
Melrose Hostel is a fantastic accommodation option located in Los Angeles, just 2.7 km from Melrose Avenue and the Capitol Records Building. The hostel offers comfortable rooms with air-conditioning and free WiFi throughout the property. Additionally, guests can enjoy a TV with Netflix and Amazon Prime in their rooms. The amenities at Melrose Hostel are impressive – hairdryers, hair curlers, luggage storage space, and even a rooftop balcony for relaxation or socializing. Conveniently situated near popular attractions like the Hollywood Walk of Fame and Dolby Theater, this hostel is perfect for travelers looking to explore the city. Plus, it's only 14 km away from Bob Hope Airport, making it easily accessible for those arriving by air.
Pros:
– Centrally located near popular attractions
– Free WiFi throughout the property
– Amenities such as a TV with Netflix and Amazon Prime
– On-site hairdryers and hair curlers available for use
– Rooftop balcony for relaxation or socializing
Dacha
Located in the heart of Los Angeles, just a short distance from popular attractions such as the LA Memorial Coliseum and the California Science Center, Dacha offers a comfortable and convenient stay. This hostel boasts amenities like free bike rentals, private parking, a shared lounge, and a terrace. Business travelers will appreciate the on-site fax and photocopying services, while all guests can take advantage of the laundry service. The hostel also provides a shared kitchen and free shuttle service. With its friendly reception staff ready to assist with any inquiries or directions, Dacha ensures that guests have an enjoyable stay.
Other places to stay in Los Angeles
Information about Hostels in Los Angeles
| | |
| --- | --- |
| 🏢 Number of Hostels in Los Angeles | 5 |
| 🥇 Average Review Score | 8.6/10 |
| 💰 High season average price | 1856 |
| 💸 Low season average price | 464 |
FAQ
Are there any hostels in Los Angeles?
Yes, there are several hostels available in Los Angeles. Hostels provide budget accommodation options for travelers who want to save money on lodging and meet other like-minded individuals. These hostels offer shared dormitory-style rooms with bunk beds as well as private rooms at affordable rates. They often have communal areas such as kitchens, lounges, and outdoor spaces where guests can socialize and relax.
How much do hostels in Los Angeles cost?
The prices of hostels in Los Angeles vary depending on the location, season, and amenities offered. On average, a bed in a shared dormitory can range from $25 to $50 per night. Private rooms with en-suite bathrooms are generally higher priced and can range from $60 to $100 or more per night. It is advisable to book in advance and compare prices online to get the best deals.
What facilities do hostels in Los Angeles offer?
Hostels in Los Angeles provide various facilities for their guests' comfort. Most hostels offer free Wi-Fi access throughout the property so that guests can stay connected. They also have communal kitchens where guests can cook their meals, saving money on eating out. Some hostels have common areas like lounges equipped with TVs, game consoles, or board games for entertainment purposes. Additionally, many hostels organize activities such as city tours or movie nights for their guests.
Is it safe to stay at a hostel in Los Angeles?
Hostel safety is always a concern for travelers but staying at a hostel in Los Angeles is generally considered safe. However, it is essential to take necessary precautions like choosing reputable hostels with good reviews, keeping personal belongings secure using lockers (if provided), and being mindful of your surroundings while exploring the city. Staff members are usually available 24/7 and can assist if any issues arise during your stay.
Can I book a hostel in Los Angeles without a membership?
Yes, you can book a hostel in Los Angeles without having a membership. While some hostels may offer discounts or special perks to members of certain organizations like Hostelling International, most hostels do not require a membership to make a reservation. However, it is recommended to check the specific requirements of each individual hostel before booking. Online travel platforms and websites often provide easy booking options for hostels without any membership requirements.
Popular Hostels destinations