Welcome to the captivating city of Liverpool, where history and culture blend seamlessly with a vibrant modern scene. If you're seeking an affordable and sociable way to explore this lively destination, look no further than the plethora of backpacker accommodations scattered throughout the city – hostels. These budget-friendly establishments provide a comfortable haven for travelers from all walks of life, offering not only exceptional value for money but also ample opportunities to connect with like-minded individuals.
Liverpool's hostels boast an eclectic mix of styles and atmospheres, catering to various preferences and travel styles. From trendy boutique hostels adorned with art installations to cozy family-run establishments tucked away in the heart of residential neighborhoods, there is something for everyone. Immerse yourself in the local way of life by choosing a hostel located within walking distance of iconic landmarks such as The Beatles Story Museum or the stunning Albert Dock area. With their convenient locations and well-connected public transport links, these accommodations serve as perfect bases for exploring all that Liverpool has to offer.
Whether you're a solo adventurer looking to meet fellow wanderers or seeking budget-friendly accommodation options for your group trip, Liverpool's hostels are sure to exceed your expectations. So pack your bags, embrace the spirit of adventure, and let Liverpool's vibrant hostel scene be your gateway to an unforgettable experience in this enchanting city!
Best Liverpool Hostels
Blessington Road B&B & Lockinn Bar & Restaurant
Located in Liverpool, just 500 meters from Anfield Stadium, Blessington Road B&B & Lockinn Bar & Restaurant is a charming hostel offering comfortable accommodation with convenient amenities. Guests can enjoy a garden, free private parking, a restaurant, and a bar on-site. The property features a shared kitchen and room service for added convenience. With free WiFi throughout the property, guests can easily stay connected during their stay. The rooms are well-equipped with modern amenities including a wardrobe, flat-screen TV, and fresh bed linen and towels. The property is non-smoking and conveniently situated 3.5 km from Lime Street Train Station. In the morning, guests can start their day with a delicious Full English/Irish breakfast available at the hostel's restaurant. Nearby attractions include Royal Court Theatre (3.6 km) and Williamson's Tunnels (3.9 km). For those traveling by air, Liverpool John Lennon Airport is the nearest airport located 16 km away from Blessington Road B&B & Lockinn Bar & Restaurant; guests also have access to paid airport shuttle services for added convenience.
– Convenient location near Anfield Stadium
– On-site restaurant and bar
– Free private parking available
– Shared kitchen facilities for guest use
– Complimentary WiFi access throughout the property
Kabannas Liverpool
Located on the corner of Stanley Street and Mathew Street, Kabannas Liverpool is a hostel known for its vibrant nightlife. The property offers free WiFi and a 24-hour front desk for guests' convenience. A breakfast menu with continental or cooked options is available at an additional cost. The rooms are fully accessible and feature bunk beds and en-suite shower rooms. Each dormitory has individual guest lockers and adjustable heating. Female-only dormitories and double rooms with street views are also offered for added privacy. Guests can enjoy lunch and dinner at the on-site kitchen, as well as drinks at the bar in the evenings. The hostel's central location allows guests to explore Liverpool on foot or book tours through the tour desk located less than 9 minutes' walk from Liverpool Lime Street Station. Anfield Football Stadium is only an 8-minute drive away, while The Cavern Quarter is just 250 feet away.
Pros:
– Vibrant nightlife
– Free WiFi
– 24-hour front desk
– Fully accessible rooms with en-suite shower rooms
– Variety of room options including female-only dormitories and double rooms
Anfield accomodation
Featuring a garden, Anfield accommodation is located in Liverpool, Merseyside. It is situated 1.8 km from Anfield Stadium and 2.8 km from Casbah Coffee Club. The property is also conveniently close to attractions such as Williamson's Tunnels, Lime Street Train Station, and Liverpool Metropolitan Cathedral. With Liverpool Central Station just 4.2 km away and Liverpool ONE at a distance of 4.7 km, guests have easy access to transportation and shopping options.
– Convenient location near major attractions
– Comfortable guest rooms with flat-screen TVs
– Shared bathrooms for all units
– Bed linen provided for convenience
– Close proximity to Philharmonic Hall and Royal Court Theatre
The nearest airport is Liverpool John Lennon Airport, located approximately 14 km from Anfield accommodation.
Other places to stay in Liverpool
Family Friendly Hostels
Family Friendly Hostels are a great option for those traveling with children, offering affordable and convenient accommodation that caters to the needs of families. These hostels provide spacious rooms or private family rooms, ensuring enough space for everyone to relax and unwind. With secure facilities and friendly staff, family-friendly hostels prioritize safety and comfort, creating a welcoming environment for parents and children alike. Additionally, many family-friendly hostels offer communal areas where kids can socialize and play with other young travelers, fostering a sense of community while giving parents some time to themselves. Overall, family-friendly hostels provide an excellent choice for budget-conscious families looking for a comfortable stay with a warm and inclusive atmosphere.
Royal Chambers Liverpool
Located in Liverpool City Centre, Royal Chambers offers simple and functional rooms with complimentary Wi-Fi. Just a short walk or taxi ride from Liverpool Lime Street Station and a 20-minute drive from Liverpool John Lennon Airport, the property is conveniently accessible for travelers. The accommodation is also situated across the road from the Royal Liverpool Hospital. Each room at Royal Chambers has access to shared bathroom facilities and comes with towels, linens, and tea/coffee making facilities. Guests will find themselves within walking distance of various bars, restaurants, and shops, including popular destinations like Liverpool One, St John's Shopping Centre, and Clayton Square Shopping Centre. For music enthusiasts, the O2 Academy music venue is just a short stroll away. Additionally, tourist attractions such as Albert Dock and other sightseeing spots are only one mile from the hostel.
Pros:
1. Central location in Liverpool City Centre
2. Complimentary Wi-Fi
3. Accessible to transportation hubs
4. Close proximity to hospitals and medical facilities
5. Within walking distance of popular shopping centers and entertainment venues
Embassie Backpackers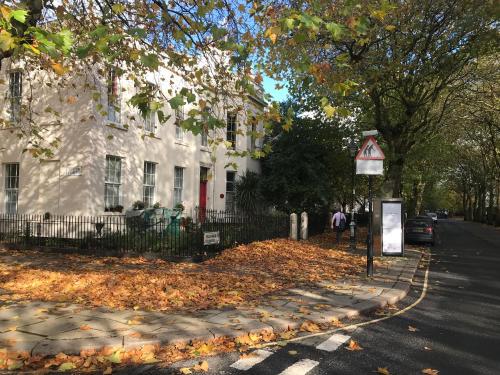 The Embassie Backpackers is a historic 200-year-old mansion and the first hostel in Liverpool, located in the charming Georgian Quarter. Just a 12-minute walk from the city center, this hostel offers guests a unique experience with its vintage ambiance. The property provides a range of amenities including a 24-hour reception desk, free WiFi throughout the building, and a delicious complimentary breakfast. Guests can make use of the shared kitchen, TV communal area, and dining room during their stay. Free parking is available upon request and additional facilities such as lockers, hairdryers, microwaves, fridges, toasters, and even fresh filtered Colombian coffee machines are provided for guests' convenience. One of the highlights of staying at this hostel is that all guests receive free tickets to visit the iconic Cavern Club where The Beatles once performed before they became famous. Additionally, there are plenty of local supermarkets, bars, coffee shops and restaurants within just a five-minute walk from the hostel. Popular nearby attractions include Liverpool's Cathedrals, Chinatown, The Baltic Triangle district known for its creative scene and trendy bars/cafes/restaurants; as well as The Peaky Blinders Pub (inspired by the hit TV show), Liverpool's famous pub "The Philharmonic", University of Liverpool and International College campuses along with various museums and art galleries showcasing the city's rich culture.
Pros:
– Historic 200-year-old mansion
– Convenient location in Liverpool's Georgian Quarter
– Complimentary breakfast included
– Access to shared kitchen facilities
– Free tickets to visit The Beatles' famous Cavern Club
The Sandon Hotel
Located in the heart of Liverpool, The Sandon Hotel is an excellent choice for travelers looking to explore the city. With its close proximity to Anfield Stadium, it's the ideal spot for football enthusiasts. This hostel offers comfortable and non-smoking rooms equipped with private bathrooms and free WiFi. Guests can enjoy a shared lounge area, as well as a bar serving refreshing drinks. Additionally, The Sandon Hotel provides entertainment options such as karaoke and darts. With its convenient location near popular landmarks like Williamson's Tunnels and Liverpool Metropolitan Cathedral, this hostel is perfect for those wanting to experience the best of Liverpool.
– Convenient location near Anfield Stadium
– Free WiFi available
– Karaoke and dart games offered
– Non-smoking rooms available
Information about Hostels in Liverpool
| | |
| --- | --- |
| 🏢 Number of Hostels in Liverpool | 6 |
| 🥇 Average Review Score | 6.7/10 |
| 💰 High season average price | 206 |
| 💸 Low season average price | 51.5 |
FAQ
1. What is the average cost of staying in a hostel in Liverpool?
The average cost of staying in a hostel in Liverpool typically ranges from £15 to £25 per night. However, prices may vary depending on the location, facilities, and time of year. It's always advisable to check different hostels and compare prices to find the best deal that suits your budget.
2. Are hostels in Liverpool suitable for solo travelers?
Yes, hostels in Liverpool are perfect for solo travelers. They offer a great opportunity to meet like-minded people from around the world and make new friends. Many hostels organize social events and provide communal spaces where you can interact with others. Additionally, staying in a hostel is more affordable than booking a hotel room, making it an ideal choice for solo adventurers.
3. What amenities can I expect at hostels in Liverpool?
Hostels in Liverpool generally offer basic amenities such as shared dormitory rooms or private rooms with shared bathrooms. Most hostels have communal areas where guests can relax, socialize, or prepare their own meals using shared kitchen facilities. Some hostels also provide additional services like free Wi-Fi access, laundry facilities, luggage storage options, and 24-hour reception desks for added convenience.
4. Is it necessary to bring my own bedding to a hostel in Liverpool?
No, you do not need to bring your own bedding when staying at a hostel in Liverpool. Hostels usually provide clean sheets and pillows for each guest upon arrival. However, if you prefer using your own sleeping bag or pillowcase for personal comfort reasons, feel free to bring them along as most hostels allow it.
5.Can I book a private room at a hostel instead of sharing dormitories?
Yes! Many hostels offer private rooms alongside dormitory accommodation options for those who prefer more privacy during their stay. Private rooms may come with ensuite bathrooms or shared facilities, depending on the hostel. Keep in mind that private rooms tend to be more expensive compared to dormitory beds, but they still offer an affordable alternative to traditional hotels.
Popular Hostels destinations