Welcome to the vibrant city of Helsinki, Finland! If you're a budget-conscious traveler with an adventurous spirit, then you've come to the right place. Today, we're diving into the world of hostels in this splendid Scandinavian metropolis. Whether you call them budget accommodations, backpacker lodges, or dormitory-style stays – these affordable alternatives are perfect for those seeking a unique and communal experience while exploring Helsinki.
Hostels have become increasingly popular among globetrotters over the years due to their affordability and social atmosphere. In Helsinki, these budget-friendly havens can be found scattered across the city center and beyond, providing a convenient base for your Finnish adventures. With their cozy interiors and diverse range of travelers from all walks of life, hostels offer an excellent opportunity to meet like-minded individuals from around the globe. So pack your bags (or rucksacks) and get ready for an unforgettable stay in one of Helsinki's finest hostels!
Best Helsinki Hostels
SweetDream Guesthouse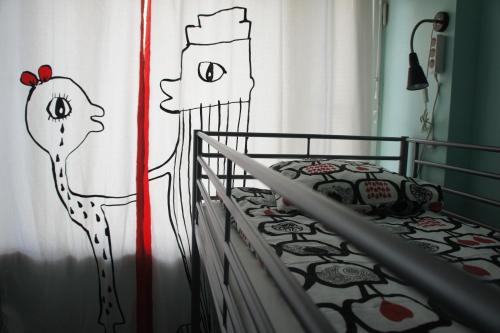 SweetDream Guesthouse is a cozy hostel located in the Sörnäinen district of Helsinki, just a 10-minute drive from the city center. This charming guesthouse offers a range of amenities including free WiFi, a beautiful garden, and a comfortable guest lounge for relaxation. The hostel is conveniently situated close to popular attractions such as Helsinki Cathedral, Helsinki Olympic Stadium, and Finlandia Hall. With Sörnäisten Metro Station only a 3-minute walk away, guests have easy access to explore the city and its surroundings. The rooms at SweetDream Guesthouse offer stunning city views and come with bed linen provided. Shared toilets and showers are available for all guests' convenience. Additional facilities include a bookable sauna, luggage storage, lockers, and street parking in the area. For travelers arriving by air, Helsinki-Vantaa Airport is just 15 km away from the property.
– Convenient location near popular attractions
– Free WiFi throughout the property
– Beautiful garden for relaxation
– Bookable sauna for ultimate comfort
– Easy access to public transportation options
Eurohostel
Eurohostel is a simple yet comfortable hostel located on Helsinki's Katajanokka island, surrounded by the sea. With only a 5-minute tram ride to the city centre and Vyökatu Tram Stop just around the corner, it offers convenient access to all that Helsinki has to offer. Each guest at Eurohostel receives complimentary linen and towels, as well as free WiFi and morning sauna access. The Viking Line ferry terminal and Kauppatori Market Square are just a few minutes' walk away, along with other interesting sights close by. The hostel features shared bathroom facilities on the corridor, as well as additional communal areas including kitchens and lounge rooms. For an extra charge, guests can enjoy a buffet breakfast in the morning. Eurohostel's lobby also provides vending machines with drinks and snacks for added convenience. The 24-hour reception is equipped to sell city passes and tickets to attractions, while the friendly staff are always ready to recommend area activities or assist with any questions you may have.
Pros:
– Convenient location near tram stop for easy access to city centre
– Complimentary linen, towels, WiFi, and morning sauna
– Close proximity to Viking Line ferry terminal and Kauppatori Market Square
– Additional communal areas including kitchens and lounge rooms
– Helpful 24-hour reception staff offering assistance with tickets and recommendations
CheapSleep Hostel Helsinki
Located in the Vallila district of Helsinki, just 3 km from Helsinki Train Station, CheapSleep Hostel offers a budget-friendly accommodation option for travelers. This hostel features free WiFi, a shared kitchen, and an on-site supermarket. The rooms at CheapSleep Hostel have either a private bathroom or shared facilities, with bed linens and free lockers provided. The fully equipped kitchen includes a dining area, perfect for preparing meals. Additionally, vending machines for drinks and snacks are available on site. Guests can easily access central Helsinki with a bus stop just 100 meters away from the hostel. Nearby attractions include Park Dallape, the Mäkelänrinne public indoor pool, and the bohemian Kallio district.
Pros:
– Free WiFi
– Shared kitchen with dining area
– On-site supermarket
– Convenient location with easy access to central Helsinki
– Nearby attractions such as Park Dallape and the bohemian Kallio district
Other places to stay in Helsinki
Family Friendly Hostels
Family-friendly hostels provide a welcoming and comfortable environment for travelers of all ages. With spacious rooms, cozy common areas, and a range of amenities, these hostels cater to the needs of families on a budget. Offering convenient locations near popular attractions and city centers, families can easily explore new destinations together. From private family rooms to kid-friendly activities and services, these hostels ensure that parents and children alike can enjoy a memorable stay while creating lasting memories during their travels.
Sky Hostel Helsinki
Located in Helsinki, Sky Hostel Helsinki offers 2-star accommodation just a short distance from the city's main attractions. The hostel features air-conditioned rooms with free WiFi and shared bathrooms. Each room is equipped with a desk and a flat-screen TV, and bed linen and towels are provided. Guests can also take advantage of the shared lounge area and private parking on site. Sky Hostel Helsinki is conveniently located near Helsinki Cathedral, Helsinki Central Station, the Helsinki Music Centre, and the Helsinki Bus Station.
Pros:
– Convenient location near popular attractions
– Air-conditioned rooms for added comfort
– Free WiFi available throughout the hostel
– Shared lounge area for socializing with other travelers
– Private parking available on site
Forenom Hostel Helsinki Pitäjänmäki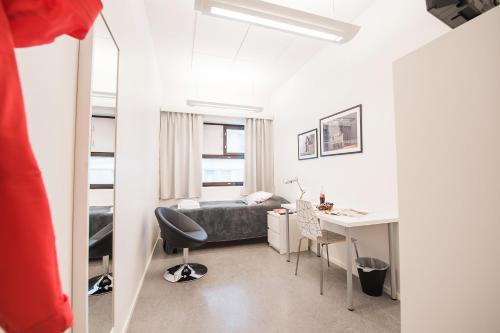 Forenom Hostel Helsinki Pitäjänmäki is a self-catering hostel located in Helsinki, offering guest rooms with a convenient keyless entry system and free WiFi. With excellent public transportation connections, guests can easily reach the city center of Helsinki in just 25 minutes. The hostel is also conveniently located near Helsinki-Vantaa Airport, making it an ideal choice for travelers. Private parking is available on site for those who prefer to drive.
Each guest room at Forenom Hostel Helsinki Pitäjänmäki is equipped with essential amenities such as a refrigerator, coffee/tea facilities, and a flat-screen TV. Guests have access to shared bathroom facilities, ensuring comfort and convenience during their stay. The shared kitchen allows guests to prepare their own meals, while the shared lounge provides a cozy space to relax and socialize with fellow travelers.
For added convenience, the hostel offers a laundry room for guests to use. A supermarket is within walking distance from the property, making it easy for guests to stock up on groceries or any other necessities they may need during their stay. Additionally, there is a bus stop located just 3 minutes' walk away from the hostel and Valimo train station is only 800 meters away.
In summary:
– Self-catering guest rooms with keyless entry system
– Free WiFi
– Convenient location with easy access to central Helsinki
– Private parking available on site
– Shared kitchen, lounge area, and bathroom facilities
Information about Hostels in Helsinki
| | |
| --- | --- |
| 🏢 Number of Hostels in Helsinki | 5 |
| 🥇 Average Review Score | 7.3/10 |
| 💰 High season average price | 862 |
| 💸 Low season average price | 215.5 |
FAQ
1
What are the best hostels in Helsinki?
There are several highly recommended hostels in Helsinki. Some of the top choices include The Yard Hostel, Eurohostel, and Cheapsleep Helsinki. These hostels provide comfortable accommodations, friendly staff, convenient locations, and affordable prices for budget travelers.
2
What facilities can I expect in a hostel in Helsinki?
Most hostels in Helsinki offer a range of facilities to ensure a comfortable stay. Common amenities include free Wi-Fi access, shared kitchens or kitchenettes where guests can prepare their own meals, communal areas such as lounges or TV rooms for socializing with other travelers, laundry facilities, and 24-hour reception desks for assistance with any queries.
3
Is it easy to meet other travelers at hostels in Helsinki?
Yes, hostels are great places for meeting fellow travelers from around the world. Many hostels organize social activities like pub crawls or movie nights that allow guests to connect with one another. Additionally, communal areas such as kitchens or lounges provide opportunities for interaction and exchanging travel stories.
4
Are private rooms available in hostels in Helsinki?
Yes, most hostels offer private rooms alongside shared dormitories. Private rooms typically come at an additional cost but offer more privacy compared to shared dorms. They usually feature either en-suite or shared bathrooms depending on the hostel's setup.
5
Are there any age restrictions when staying at a hostel in Helsinki?
Age restrictions vary depending on each hostel's policy. While some hostels may have minimum age requirements or only accept guests within a certain age range (e.g., 18-35), others welcome travelers of all ages. It is advisable to check with the specific hostel beforehand if you have any concerns about age restrictions during your stay in Helsinki
Popular Hostels destinations