Welcome to the vibrant city of Gothenburg, located on the western coast of Sweden. As a hostels connoisseur and avid traveler, I am thrilled to share with you my insights on the fantastic accommodations available in this remarkable destination. Whether you're a budget-savvy wanderer or seeking a sociable atmosphere during your stay, Gothenburg's hostels offer an array of options that cater to every type of adventurer.
In this article, we will explore the captivating world of backpackers' lodgings in Gothenburg. These economical establishments provide a plethora of amenities while ensuring an authentic and communal experience for travelers from all walks of life. From cozy shared dormitories equipped with modern facilities to private rooms boasting magnificent panoramas across the cityscape, there is no shortage of choices when it comes to staying affordably and comfortably in Gothenburg.
So join me as we embark on an exciting journey through the diverse hostel scene in this charming Scandinavian city. Prepare yourself for unforgettable encounters with fellow explorers, delightful local cuisine, and endless opportunities to immerse yourself in Gothenburg's rich culture and history. Let's begin our exploration into the marvelous world of hostels in Gothenburg!
Best Gothenburg Hostels
Slottsskogens Hostel
Located in the Linnéstaden district of central Gothenburg, Slottsskogens Hostel offers a comfortable and convenient stay for travelers. The hostel provides free WiFi and well-equipped rooms with a TV, seating area, and shared bathroom facilities. Guests can start their day with a delicious buffet breakfast featuring organic options. The hostel also boasts an on-site café that serves light meals and refreshments. For those who prefer to cook their own meals, there is a fully equipped shared kitchen available. Additionally, guests can enjoy the sauna on site or engage in activities like pool or mini golf in the guest lounge. The hostel occasionally organizes quizzes and movie nights for entertainment. The Linnéstaden area surrounding the hostel offers a peaceful atmosphere and is known for its charming cafés, restaurants, and boutiques.
Pros:
– Free WiFi
– Buffet breakfast with organic options
– Sauna available on site
– Activities including pool and mini golf
– Convenient location near public transportation (Olivedalsgatan Tram Stop)
Lisebergsbyns Vandrarhem
Situated in the Örgryte – Härlanda district of Gothenburg, Lisebergsbyns Vandrarhem is a conveniently located hostel. It is just a short distance away from popular attractions such as the Swedish Exhibition & Congress Centre, Scandinavium, Ullevi, and Liseberg. The hostel offers comfortable rooms with shared bathrooms and bed linen provided. Guests can enjoy free WiFi and free private parking during their stay. Additionally, there is a children's playground available for younger guests to enjoy. In the mornings, guests can start their day with a continental breakfast served at the accommodation. With its central location and convenient amenities, Lisebergsbyns Vandrarhem is an excellent choice for travelers visiting Gothenburg.
– Conveniently located in the Örgryte – Härlanda district
– Close proximity to popular attractions
– Free WiFi and free private parking
– Children's playground available
– Continental breakfast served each morning
Linné Hostel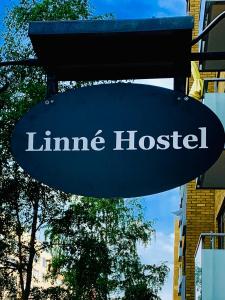 Linné Hostel is conveniently located in the heart of Gothenburg's Linnéstaden district. This budget-friendly hostel offers simply furnished rooms with access to shared bathroom facilities. Guests can also enjoy the use of a communal kitchen equipped with a stovetop and fridge. Free WiFi is available throughout the property, and some rooms even come with a TV. The surrounding neighborhood offers an array of dining options and vibrant nightlife spots. For those looking to explore further, Gothenburg Central Station is just an 11-minute direct bus ride away, while the beautiful Gothenburg Botanical Gardens are only 1.5 km away.
– Great central location within the Linnéstaden district
– Communal kitchen for self-catering
– Free WiFi throughout the property
– Some rooms equipped with TVs
– Close proximity to restaurants and nightlife options
Other places to stay in Gothenburg
Family Friendly Hostels
Family Friendly Hostels offer a welcoming and affordable accommodation option for families traveling together. These hostels prioritize providing a safe and comfortable environment for both children and adults, ensuring that families have an enjoyable stay. With spacious shared rooms or private family rooms available, these hostels cater to the specific needs of families by offering amenities such as cribs, high chairs, and play areas. Additionally, some family-friendly hostels organize activities and events for kids, allowing them to socialize with other young travelers while their parents relax or explore the destination. From convenient locations to friendly staff members who can provide insider tips about family-friendly attractions in the area, these hostels are the perfect choice for budget-conscious families seeking memorable experiences on their travels.
Göteborg Hostel
Located just a 5-minute walk from Liseberg Amusement Park, Göteborg Hostel is a great choice for travelers looking for affordable accommodation in Gothenburg. The hostel offers free WiFi and recently renovated shared bathroom facilities. The guest rooms are bright and feature wooden floors, along with a table and chairs. Some rooms have bunk beds, while others have comfortable spring mattresses. The hostel also has a modern and well-equipped guest kitchen with multiple fridges. Guests can enjoy the TV lounge or relax on the west-facing terrace during warmer months. A buffet breakfast is available each morning, and there is a grocery store just 200 meters away. The hostel is conveniently located near Liseberg Södra Tramstop (150 meters), Universeum (850 meters), and the Museum of World Culture (750 meters).
Pros:
– Convenient location near Liseberg Amusement Park
– Free WiFi
– Newly renovated shared bathroom facilities
– Modern and well-equipped guest kitchen
– TV lounge and west-facing terrace for relaxation
Spoton Hostel & Sportsbar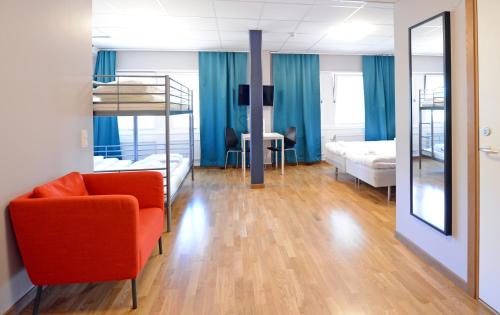 Spoton Hostel & Sportsbar is a conveniently located accommodation in Gothenburg, just 150 meters away from the south entrance of Liseberg Amusement Park. The hostel offers comfortable rooms with air conditioning and free WiFi. It is only a 2-minute walk to the closest tram station, making it easy to explore the city. Guests can enjoy a variety of internationally-inspired dishes at the bar and restaurant on-site. The hostel is also close to popular attractions such as the Swedish Exhibition and Congress Centre, Scandinavium Arena, and Ullevi stadium. Whether you prefer private or shared bathrooms, Spoton Hostel & Sportsbar has options for everyone. Shared facilities include a kitchen and communal lounge, perfect for socializing with fellow travelers. With its convenient location and cozy amenities, this hostel provides an excellent base for exploring Gothenburg.
– Conveniently located near Liseberg Amusement Park
– Close to tram station for easy transportation
– Air-conditioned rooms with free WiFi
– Bar and restaurant offering delicious international dishes
– Shared facilities including kitchen and communal lounge
Information about Hostels in Gothenburg
| | |
| --- | --- |
| 🏢 Number of Hostels in Gothenburg | 5 |
| 🥇 Average Review Score | 7.3/10 |
| 💰 High season average price | 480 |
| 💸 Low season average price | 120 |
FAQ
What is the best area to stay in Gothenburg for a hostel?
One of the best areas to stay in Gothenburg for a hostel is the city center. This area offers easy access to popular attractions such as Liseberg amusement park, shopping districts like Avenyn, and cultural landmarks like the Gothenburg Museum of Art. Additionally, there are plenty of restaurants, bars, and nightlife options within walking distance of many hostels in this area.
Are hostels in Gothenburg safe?
Yes, hostels in Gothenburg are generally considered safe for travelers. Most hostels have security measures in place such as lockers or luggage storage facilities to keep your belongings secure. It's always a good idea to use common sense and take basic precautions like keeping your valuables with you and using lockers provided by the hostel.
What amenities do hostels in Gothenburg typically offer?
Hostels in Gothenburg usually offer a range of amenities including free Wi-Fi access, communal kitchens where you can prepare your own meals, comfortable common areas for socializing or relaxing, laundry facilities for guests to use, and sometimes even organized activities or tours. Some hostels may also have private rooms available if you prefer more privacy during your stay.
Is it necessary to bring my own bed linen when staying at a hostel in Gothenburg?
In most cases, it is not necessary to bring your own bed linen when staying at a hostel in Gothenburg. Hostels typically provide clean sheets and bedding for their guests. However, it's always worth double-checking with the specific hostel you plan on staying at just to be sure if they provide them or if there are any additional charges associated with renting bed linen.
Can I book a private room at a hostel in Gothenburg?
Yes, many hostels in Gothenburg offer private rooms alongside dormitory-style accommodations. These private rooms often come with their own en-suite bathroom and provide a more secluded and comfortable option for those seeking more privacy. However, it's important to note that private rooms tend to be in high demand, so it's advisable to book in advance if you have a preference for this type of accommodation.
Popular Hostels destinations