As a seasoned wanderer, I have explored numerous destinations around the globe, always on the lookout for unique and budget-friendly accommodations. Today, we embark on a virtual journey to the enchanting city of Gold Coast, Australia. Nestled along the stunning coastline of Queensland, this vibrant metropolis is famed for its golden beaches, thriving nightlife, and exhilarating outdoor activities. And what better way to experience the true essence of this sun-kissed paradise than immersing yourself in one of its many hostels? From cozy retreats nestled in leafy suburbs to hip and trendy hubs in the heart of Surfers Paradise, Gold Coast offers an array of accommodation options that cater to every traveler's taste and budget.
Picture waking up with a panoramic view of turquoise waters stretching as far as the eye can see. Imagine sipping your morning coffee amidst lush tropical gardens while bonding with fellow explorers from all corners of the world. Well, all this and more awaits you at Gold Coast's finest hostels! Whether you are a solo adventurer seeking new friendships or a group of friends looking for affordable yet comfortable lodgings, these hidden gems will certainly leave an indelible mark on your memory. So pack your bags and join me on this incredible journey as we uncover some of Gold Coast's most exceptional hostel experiences!
Best Gold Coast Hostels
Coolangatta YHA Backpackers
Coolangatta YHA Backpackers is a fantastic option for travelers looking for a budget-friendly accommodation near Gold Coast Airport. This hostel offers an outdoor pool and a fully equipped communal kitchen, making it easy to socialize and meet other backpackers. The guest lounge area features cable TV, vending machines, table tennis, and a pool table for guests' entertainment. Additionally, there are four garden areas, a large dining area, and a BBQ area where guests can relax and enjoy the outdoors. The hostel also provides a guest laundry facility as well as surfboards and bicycles for hire. With the help of the tour desk, guests can easily book exciting activities such as snorkeling trips, whale watching tours, and surfing lessons. Conveniently located just 150 meters away from North Kirra Beach, Coolangatta YHA ensures all guests have access to shared bathroom facilities while offering secure private lockers for added peace of mind. For those seeking more privacy or easy courtyard access, rooms with direct courtyard entry are available.
Pros:
– Outdoor pool to cool off on hot days
– Fully equipped communal kitchen
– Multiple garden areas and outdoor dining options
– Availability of surfboards and bicycles for hire
– Convenient location near the beach
Homely Inn Hostel
Homely Inn Hostel, located in Gold Coast, offers a range of amenities for guests to enjoy. With an outdoor swimming pool, garden, shared lounge, and terrace, there are plenty of spaces to relax and socialize. The hostel also provides free WiFi and is conveniently situated within walking distance of Anzac Park Beach and Broadwater Parklands Beach. The rooms at Homely Inn Hostel feature shared bathrooms with showers, and some units even have balconies. Bed linen and towels are provided for all guests. Additionally, the accommodation offers a shared kitchen for self-catering purposes as well as currency exchange services. Nearby attractions include Pelican Beach, Australia Fair Shopping Centre, and Southport Broadwater Parklands. For travelers flying in or out of the area, Gold Coast Airport is just 28 km away.
– Outdoor swimming pool
– Garden
– Shared lounge
– Terrace
– Free WiFi
Coolangatta Sands Hotel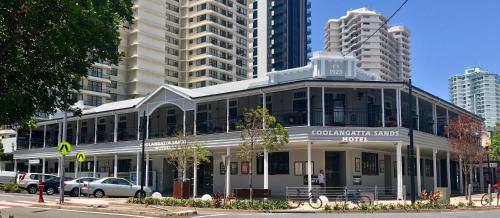 Coolangatta Sands Hotel in Gold Coast is a fantastic choice for travelers looking for a vibrant and lively atmosphere. This hostel offers various amenities such as a shared lounge, terrace, restaurant, and bar. Guests can enjoy free WiFi throughout the property and also have access to a shared kitchen and an ATM. The rooms are well-equipped with comfortable beds and wardrobes. The hostel also provides luggage storage space and has a nightclub on-site. Additionally, guests can enjoy a barbecue at the accommodation. Coolangatta Beach, Kirra Beach, and Greenmount Beach are popular attractions located nearby.
– Shared lounge and terrace
– Restaurant and bar on-site
– Free WiFi throughout the property
– Luggage storage facility
– Close proximity to beautiful beaches
Other places to stay in Gold Coast
Family Friendly Hostels
Family Friendly Hostels provide a comfortable and welcoming environment for families looking to explore new destinations together. With spacious family rooms, common areas designed for relaxation and fun, and amenities tailored to meet the needs of children, these hostels ensure a memorable and stress-free stay for all. From playrooms equipped with toys and games to outdoor spaces perfect for picnics and playtime, families can enjoy quality time together while connecting with other travelers from around the world. Family Friendly Hostels offer an affordable accommodation option without compromising on comfort or safety, making them an ideal choice for adventurous families seeking immersive travel experiences.
Maxmee Backpackers Resort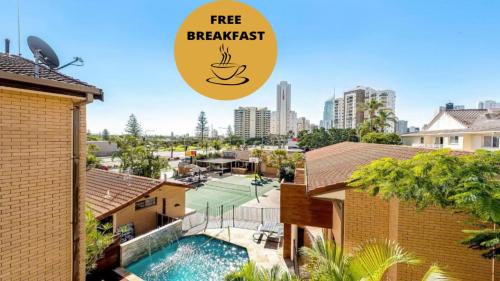 Located just a 5-minute walk from the famous Surfers Paradise Beach, Maxmee Backpackers Resort is the perfect place to stay for those looking to enjoy all that this stunning destination has to offer. This hostel offers a range of amenities including free WiFi, an outdoor pool, and a tennis court. Guests can also take advantage of the free laundry facilities and enjoy activities such as basketball, table tennis, volleyball, and body-boarding. The property has been recognized for its outstanding service by winning the TripAdvisor Award for Excellence in both 2014 and 2015. The tour desk is available to provide sightseeing advice and arrange tours for guests. Accommodation options include dormitory rooms or self-contained 2-bedroom apartments. Situated just a short distance from Cavill Avenue, guests can easily explore dining, shopping, and nightlife options in the area either by taking a leisurely 20-minute walk or an 8-minute tram ride. For those arriving by plane, Gold Coast Airport is just a convenient 30-minute drive away.
– Prime location near Surfers Paradise Beach
– Free WiFi
– Outdoor pool & tennis court
– Free laundry facilities
– Various recreational activities available
Backpackers In Paradise Under 45's Hostel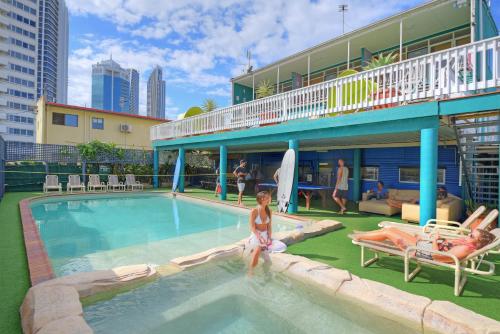 Backpackers In Paradise is a centrally located hostel in the heart of Surfers Paradise, offering easy access to the transit centre, beach, clubs, restaurants, and tourist attractions. Guests can enjoy a range of facilities including a swimming pool, hammocks, table tennis and billiard tables, a large sundeck, luggage storage facilities and limited on-site parking. The hostel also offers a large communal kitchen for guests to use and a spacious central courtyard to relax in. Additional amenities include two laundry areas, surfboard hire for those looking to hit the waves, and occasional weekend entertainment. All rooms come with an en suite bathroom and lockers for added security. Although the on-site Paradise Café is currently closed, there are plans to reopen it soon.
– Central location near popular attractions
– Range of facilities including swimming pool and games area
– Large communal kitchen for guest use
– Spacious central courtyard for relaxation
– En suite bathrooms and lockers available in all rooms
Other places to stay in Gold Coast
Information about Hostels in Gold Coast
| | |
| --- | --- |
| 🏢 Number of Hostels in Gold Coast | 5 |
| 🥇 Average Review Score | 6.9/10 |
| 💰 High season average price | 766 |
| 💸 Low season average price | 191.5 |
FAQ
1. What are the best hostels in Gold Coast?
The Gold Coast offers a wide range of hostels catering to different budgets and preferences. Some of the top-rated ones include BUNK Backpackers, Coolangatta Sands Hostel, and Sleeping Inn Surfers Paradise. These hostels provide comfortable accommodations, friendly staff, and convenient locations close to popular attractions and public transportation.
2. Are hostels in Gold Coast safe?
Safety is a priority for hostels in Gold Coast. Most hostels have security measures in place such as 24-hour reception, key card access to rooms, and CCTV cameras. However, it is always advisable to take necessary precautions like using lockers for valuables and being cautious with personal belongings.
3. Can I book a private room in a hostel in Gold Coast?
Yes, many hostels offer private rooms alongside dormitories for those seeking more privacy or traveling as couples or families. These private rooms are equipped with amenities like ensuite bathrooms, comfortable beds, TV, and Wi-Fi access.
4. Are there communal facilities available at hostels in Gold Coast?
Hostels in Gold Coast usually have several communal facilities where guests can socialize and relax. These often include common areas like lounges or TV rooms, fully equipped kitchens for self-catering meals, outdoor barbecue areas or terraces with seating arrangements.
5. What additional services can I expect from a hostel in Gold Coast?
In addition to accommodation options mentioned earlier along with communal facilities mentioned above some hostels may also provide extra services like laundry facilities (self-service or paid), luggage storage before check-in or after check-out time if needed convenience transfers can be arranged by the hostel as well upon request
Popular Hostels destinations