Welcome to the charming city of Chania in Greece, where a myriad of budget-friendly accommodation options awaits you. If you're seeking an alternative and affordable way to explore this picturesque destination, look no further than the vibrant hostels scattered throughout the city. These economical establishments provide an excellent opportunity for travelers to not only save money but also experience a unique and communal atmosphere that fosters friendships and cultural exchange.
Chania boasts an array of hostels, each with its own distinct charm and character. From cozy guesthouses to lively backpacker havens, there is something to suit every traveler's taste. Embrace the sociable vibes as you connect with fellow adventurers from around the globe in shared dormitories or unwind in cozy private rooms adorned with colorful décor. With friendly staff ready to offer insider tips on local hotspots, these cost-effective accommodations serve as your gateway to immersive experiences in this enchanting Greek city.
With their central locations, hostels in Chania provide easy access to must-see attractions such as the historic Old Town and Venetian Harbor. Wander through narrow cobblestone streets lined with traditional tavernas offering tantalizing Greek cuisine or get lost amidst ancient ruins that whisper stories of centuries past. Whether you're a solo traveler looking for like-minded wanderers or a group seeking affordable accommodations without compromising on quality or location, Chania's hostels cater to all tastes and preferences.
So pack your bags, embrace adventure on a budget, and let Chania's hostels become your home away from home as you discover all that this captivating destination has to offer!
Best Chania Hostels
Kumba Hostel (Chania Town)
Kumba Hostel in Chania Town offers guests a comfortable stay with its garden and bar facilities. Conveniently located near popular attractions such as the House-Museum of Eleftherios Venizelos and Saint Anargyri Church, this property is an ideal choice for travelers looking to explore the area. For those interested in history, Venizelos Graves is just 2.7 km away. The hostel also provides a tour desk that can assist guests in planning their day trips. With Chania International Airport only 10 km away, Kumba Hostel is easily accessible for travelers arriving by air.
– Garden area for relaxation
– On-site bar for socializing
– Close proximity to historical attractions
– Helpful tour desk for planning day trips
– Convenient location near Chania International Airport
Hostel Stylianos Kissamos (Kissamos)
Hostel Stylianos Kissamos, located in Kíssamos in the Western Crete Region, offers a sauna and a range of amenities for guests to enjoy. The hostel features a barbecue area and sun terrace, as well as a bar where guests can relax with a drink. Free WiFi is available throughout the property. Additionally, Hostel Stylianos Kissamos provides bike hire and car rental services for those looking to explore the area. The rooms are equipped with modern facilities including a flat-screen TV, computer, and CD player. Some rooms offer beautiful views of the sea or mountains. The hostel also offers conveniences such as a 24-hour front desk, cash machine, hairdresser's salon, and gift shop. Guests can enjoy popular activities like horse riding and snorkelling nearby. Falasarna Beach is just 10 km away while Balos Lagoon is at a distance of 14 km. For those interested in exploring further, Chania Old Harbour is 34 km away and the nearest airport is Chania International Airport which is approximately 44 km from the property.
Pros:
– Convenient location near popular attractions such as Falasarna Beach
– Sauna available for relaxation after a day of exploring
– Variety of amenities offered including bike hire and car rental
– Modern facilities provided in rooms with some offering stunning views
– Accessible to various outdoor activities like horse riding and snorkelling
Haris Rooms (Georgioupolis)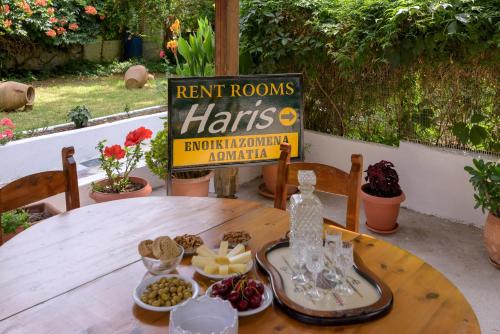 Haris Rooms is a charming hostel located in the beautiful town of Georgioupolis. Situated just 300 meters from Georgioupolis Beach and 500 meters from Kalivaki Beach, this hostel offers guests a convenient location for exploring the stunning coastline. The property features a garden and provides free WiFi and private parking for guests who drive. With family rooms available, Haris Rooms is suitable for both solo travelers and those traveling with loved ones. The hostel also offers a sun terrace and a children's playground for guests to enjoy. Each room at Haris Rooms includes a private bathroom equipped with a shower and hairdryer, ensuring comfort during your stay. Some rooms even come with fully-equipped kitchens fitted with fridges, allowing guests to prepare their own meals if desired. Nearby attractions include the Museum of Ancient Eleftherna, located 47 km away, and the Historical – Folklore Museum of Gavalochori, just 13 km from the hostel. Peristeras Beach can be reached within 800 meters, while the Archaeological Museum of Rethymno is 23 km away. For those flying in or out of the area, Chania International Airport is the closest airport at a distance of 48 km.
– Convenient location near Georgioupolis Beach
– Free WiFi access throughout the property
– Family rooms available for groups or families traveling together
– Sun terrace for relaxation under the Greek sun
– Children's playground on-site
Family Friendly Hostels
Family Friendly Hostels are a great option for travelers who are exploring the world with their loved ones. These types of accommodations provide a comfortable and safe environment for families, ensuring that both parents and children have an enjoyable experience. Family Friendly Hostels often offer spacious private rooms or dormitories where families can stay together, as well as common areas and playrooms where kids can interact with others. With facilities such as baby cots, high chairs, and child-friendly meals available, these hostels cater to the needs of families by providing all the comforts of home while also fostering a sense of community among fellow travelers.
Constantinos Budget Beds (Chania Town)
The Constantinos Budget Beds hostel is conveniently located in Chania Town, just 150 meters from the beach in Nea Chora. It offers affordable dormitory rooms and is only a 20-minute walk away from the Old Venetian Port of Chania. The hostel also benefits from its close proximity to popular attractions such as the Historical Museum of Chania and Firkas Fortress, both within a 1.3 km distance. Additionally, for those traveling by air, Chania International Airport is only 13 km away.
– Affordable accommodation in dormitory rooms
– Close proximity to the beach
– Convenient location within walking distance of the Old Venetian Port of Chania
– Nearby attractions include the Historical Museum of Chania and Firkas Fortress
– Easy access to and from Chania International Airport
KALERGI LODGE – 4wd access (Omalós)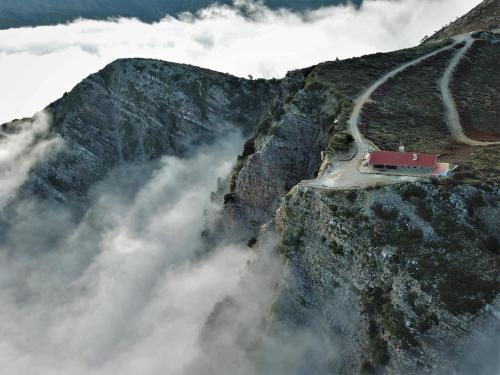 Located in Omalós, just 4.4 km from the famous Samaria Gorge, KALERGI LODGE – 4wd access is a charming hostel that offers a peaceful retreat surrounded by nature. The property features a garden, free private parking, a shared lounge, and a terrace. The rooms at the hostel have a shared bathroom and offer stunning mountain views. Guests can enjoy a continental breakfast at the accommodation and have drinks at the snack bar. Activities such as hiking and skiing are popular in the area, making it an ideal choice for outdoor enthusiasts. With its close proximity to Chania International Airport (50 km), it is easily accessible for travelers. Other nearby attractions include Botanical Park & Gardens of Crete (19 km), Limnoupolis water park (33 km), and Agios Dimitrios Church (36 km).
– Convenient location near Samaria Gorge
– Free private parking available
– Beautiful mountain views from rooms
– Continental breakfast included
– Proximity to hiking and skiing activities
Information about Hostels in Chania
| | |
| --- | --- |
| 🏢 Number of Hostels in Chania | 5 |
| 🥇 Average Review Score | 7.9/10 |
| 💰 High season average price | 1490 |
| 💸 Low season average price | 372.5 |
FAQ
Are there any hostels available in Chania, Greece?
Yes, there are several hostels available in Chania, Greece. Chania is a popular tourist destination and offers a range of budget accommodations including hostels which are ideal for travelers looking for affordable and social accommodation options.
What amenities can I expect at hostels in Chania?
Hostels in Chania generally offer basic amenities such as free Wi-Fi, shared dormitory-style rooms with bunk beds, communal areas like lounges or kitchens where guests can interact and cook their meals, laundry facilities, and sometimes even a bar or restaurant on-site. Some hostels may also provide private rooms or female-only dorms.
Is it necessary to book a hostel in advance in Chania?
It is recommended to book your hostel in advance especially during peak tourist seasons (summer months) as availability can be limited. However, if you are visiting during the quieter months or have flexibility with your travel dates, you may find last-minute availability without prior booking.
Are hostels safe for solo travelers in Chania?
Generally speaking, hostels in Chania are safe for solo travelers. However, it is always advisable to take standard precautions such as keeping your belongings secure by using lockers provided (if available), being aware of your surroundings especially when returning late at night and following any safety guidelines provided by the hostel staff.
What is the average price range for a night's stay at a hostel in Chania?
The average price range for a night's stay at a hostel in Chania varies depending on the location and season. On average, expect to pay between €10-€30 per night. Prices may be slightly higher during peak tourist seasons and lower during off-peak periods.
Popular Hostels destinations