Welcome to Buenos Aires, Argentina! If you're a wanderlust enthusiast looking for an affordable and immersive way to experience this vibrant city, then look no further than the hostels scattered across its charming neighborhoods. Hostels in Buenos Aires offer an incredible opportunity to connect with fellow travelers from all walks of life while diving deep into the local culture.
These budget-friendly accommodations, also known as backpacker lodges or traveler havens, provide a unique blend of comfort, affordability, and camaraderie. Whether you prefer the hustle and bustle of downtown or seek tranquility in the leafy suburbs, Buenos Aires has a hostel to suit every taste. From cozy private rooms to lively communal spaces adorned with colorful artwork and furnished with comfortable bean bags – there's something here for everyone.
Staying in hostels not only allows you to save some extra pesos but also opens doors for authentic interactions with both locals and fellow adventurers. Swap travel stories over a traditional Argentine barbecue or embark on guided walking tours together, exploring hidden gems that even guidebooks may have overlooked. Soak up the infectious energy of tango dancing at a nearby milonga or join language exchange sessions right within your hostel's walls – embracing new cultures has never been more accessible!
In this blog post series about Buenos Aires hostels, we'll uncover some hidden gems that will make your stay unforgettable. From centrally located gems offering easy access to iconic landmarks like La Boca and Recoleta Cemetery to off-the-beaten-path hideaways nestled amidst Palermo's hipster scene – get ready for a whirlwind adventure that sparks your sense of curiosity.
So pack your bags full of excitement because we are about to embark on an unforgettable journey through the fascinating world of hostels in Buenos Aires!
Best Buenos Aires Hostels
Malevo Murana Hostel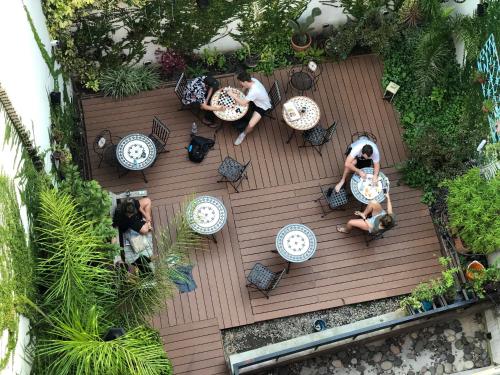 Malevo Murana Hostel is a charming accommodation option located in Buenos Aires. Guests can enjoy the beautiful garden, relax in the shared lounge or take in the views from the terrace. The hostel also offers free WiFi throughout the property and a shared kitchen with a barbecue for guests to use. For entertainment, there is a dart board available. Additionally, Malevo Murana Hostel is conveniently situated near popular attractions such as Buenos Aires Japanese Gardens and Bosques de Palermo. Plaza Serrano Square is only 300 meters away from the property. The reception is open 24/7 and provides round-the-clock advice in English, Spanish, French, and Italian. Furthermore, Jorge Newbery Airfield Airport can be reached within a short 5 km distance.
– Beautiful garden
– Free WiFi throughout the property
– Shared kitchen with barbecue facilities
– Convenient location near popular attractions
– Multilingual staff at reception
Hagoth Hostel
Located in the heart of the antiques district, Hagoth Hostel offers air-conditioned rooms with private balconies. Just a short walk from Dorrego Square and its picturesque artisans fair, this hostel provides tastefully decorated rooms in earth tones. Guests can relax and unwind while watching TV in the common areas, which feature touches of colonial style décor. Free WiFi access is available throughout the property, and there are both private and shared bathroom options for guests. Additionally, Hagoth Hostel provides a common kitchen for those who prefer to cook their own meals. The tour desk is also available to assist guests with tips and arranging car rentals. With its convenient location, The Obelisk is just 15 blocks away and Jorge Newbery Airport is only 6 km away.
– Air-conditioned rooms with private balconies
– Tastefully decorated rooms in earth tones
– Free WiFi access throughout the property
– Common kitchen for guests to use
– Convenient location near attractions like The Obelisk and Jorge Newbery Airport
LOPEZ Hostel & Suites
LOPEZ Hostel & Suites in Buenos Aires offers adults-only accommodation with a charming garden, a cozy shared lounge, and a relaxing terrace. The property is conveniently located near Plaza Serrano Square, Bosques de Palermo, and Palermo Lakes. Each unit at the hostel features a comfortable seating area and a television with cable channels. Bed linen and towels are provided for all rooms. Guests can enjoy the convenience of a shared kitchen, concierge service, and currency exchange. Free WiFi is available throughout the property, and some rooms even offer a lovely patio. Nearby attractions include El Rosedal Park and Buenos Aires Japanese Gardens. For guests arriving by air, Jorge Newbery Airfield is just 6 km away, with paid airport shuttle service offered by the hostel.
– Adults-only accommodation
– Charming garden
– Cozy shared lounge
– Convenient location near attractions
– Free WiFi available to all guests
Other places to stay in Buenos Aires
Family Friendly Hostels
Family-friendly hostels are a great option for travelers with children, as they provide a welcoming and inclusive environment that caters to the needs of families. These hostels offer spacious family rooms or private accommodations, ensuring comfort and privacy for parents and children alike. Additionally, family-friendly hostels often feature common areas where families can relax and socialize, as well as facilities such as kitchens or dining areas, making it easier for parents to prepare meals for their little ones. With their friendly staff and safe surroundings, family-friendly hostels are the perfect choice for those seeking budget-friendly accommodation without compromising on quality or convenience.
Viajero Hostel Buenos Aires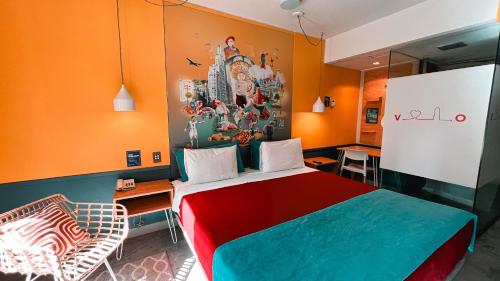 Viajero Hostel Buenos Aires is a charming hostel located in Buenos Aires, offering guests a comfortable and enjoyable stay. The hostel boasts a seasonal outdoor swimming pool, a garden, shared lounge, and terrace for guests to relax and unwind. Additionally, there is a bar and restaurant serving delicious local cuisine onsite. All rooms at Viajero Hostel Buenos Aires come with air conditioning and a private bathroom. Some rooms even feature a cozy seating area. Guests can start their day with a continental breakfast served daily at the hostel. The property also offers convenient amenities such as 24-hour front desk assistance, airport transfers, free WiFi throughout the premises, and access to a shared kitchen. Bed linen is provided in all rooms for added convenience. For those looking to explore the city on two wheels, bike hire is available at the accommodation as cycling is popular in the area. Nearby attractions include Tortoni Cafe, Palacio Barolo, and Centro Cultural Kirchner. The nearest airport is Jorge Newbery Airfield Airport which is just 7 km away from the hostel.
Pros:
– Seasonal outdoor swimming pool
– Charming garden
– Convenient onsite bar and restaurant
– Comfortable air-conditioned rooms with private bathrooms
– Access to shared kitchen facilities
V&S Hostel Boutique
Introducing V&S Hostel Boutique, a new proposal that aims to create a sense of home for its guests. Located on the fourth floor of a charming French-style house built in 1918, this hostel offers a shared and inspiring space for those seeking an independent and relaxed stay in Buenos Aires. Just blocks away from iconic landmarks such as the Obelisk, Teatro Colón, and Florida pedestrian street, guests can enjoy the convenience of exploring the city's vibrant attractions within walking distance. The hostel provides free city maps and walking tours, allowing visitors to discover Buenos Aires at their own pace. Additionally, at the reception desk, guests can easily book tickets for art exhibitions, tango shows, and football matches. For added convenience, laundry service is available for an extra fee while luggage service is complimentary for staying guests. Airport shuttles can be arranged upon request at an additional cost. With its excellent location and array of amenities, V&S Hostel Boutique offers travelers a comfortable base from which to explore all that Buenos Aires has to offer.
– Convenient location near major landmarks
– Shared space with inspiring ambiance
– Free city maps and walking tours
– Ticket booking services available
– Complimentary luggage service
Information about Hostels in Buenos Aires
| | |
| --- | --- |
| 🏢 Number of Hostels in Buenos Aires | 5 |
| 🥇 Average Review Score | 8.9/10 |
| 💰 High season average price | 910 |
| 💸 Low season average price | 227.5 |
FAQ
What are the best areas to find hostels in Buenos Aires?
Buenos Aires offers a wide range of neighborhoods with great hostels. Palermo is a popular choice, known for its trendy bars, restaurants, and vibrant nightlife. San Telmo is a historic district with charming cobblestone streets and antique shops, perfect for those looking for cultural experiences. Recoleta is an upscale neighborhood with beautiful parks and museums. Finally, Microcentro is the city's downtown area, ideal for travelers who want to be close to major attractions and transportation hubs.
What amenities can I expect in Buenos Aires hostels?
Most hostels in Buenos Aires provide basic amenities such as communal kitchen facilities where you can cook your meals if you're on a budget or prefer homemade food. Common areas like lounges or rooftop terraces are usually available for socializing or relaxing after a day of exploring the city. Many also offer free Wi-Fi access so you can stay connected during your stay. Some might have private rooms available if you prefer more privacy while others only provide dormitory-style accommodation.
Are Buenos Aires hostels safe?
Hostel safety in Buenos Aires generally aligns with standard travel precautions. It's always recommended to choose reputable hostels that have positive reviews from previous guests regarding security measures. Look for properties that have 24-hour reception desk service as this ensures there will always be staff available to assist you throughout your stay.
What is the average price range of hostels in Buenos Aires?
The price range of hostel accommodation in Buenos Aires varies depending on several factors such as location, seasonality, and amenities offered by each property. On average, expect prices to start around $10-15 USD per night for a bed in a dormitory-style room with shared facilities. Private rooms typically range from $30-50 USD per night.
Can I book tours or activities through my hostel in Buenos Aires?
Yes, many hostels in Buenos Aires offer tour booking services and can help you plan various activities during your stay. Whether you're interested in exploring the city's vibrant street art scene, taking tango lessons, or going on day trips to nearby destinations like Tigre or Colonia del Sacramento in Uruguay, hostel staff will be able to provide information and assist with bookings.
Popular Hostels destinations