Welcome fellow wanderers! Today, we embark on a journey to explore the vibrant city of Brussels, Belgium. Known for its rich history, stunning architecture, and mouthwatering cuisine, Brussels is an absolute must-visit destination for any traveler seeking an authentic European experience. What better way to immerse yourself in the local culture than by staying at one of the charming lodging options that Brussels has to offer? In this guide, we will delve into the world of hostels in this enchanting city.
Brussels boasts a plethora of budget-friendly accommodations that cater to all types of travelers. Whether you're a solo adventurer looking to make new friends along your journey or a group of backpackers yearning for affordable yet comfortable lodgings, hostels in Brussels have got you covered. These budget-conscious havens provide not only a place to rest your weary head but also serve as hubs for socializing and connecting with like-minded individuals from around the globe.
From quaint and cozy dormitory-style rooms to private en-suite options, hostels in Brussels are designed with your comfort and convenience in mind. Expect modern amenities such as free Wi-Fi access, communal kitchens where you can whip up delicious meals using fresh local ingredients from nearby markets, as well as common areas perfect for swapping travel stories over a cup of steaming hot Belgian chocolate. So pack your bags and get ready to embark on an unforgettable adventure while enjoying all that these unique hostels have to offer!
Best Brussels Hostels
Urban City Centre Hostel
Urban City Centre Hostel is a centrally located hostel in Brussels, just 650 metres from Midi Station, offering convenient connections to international destinations. It is also only 1 km away from popular attractions such as Grand Place and Manneken Pis. The hostel provides free WiFi for guests' convenience. Within walking distance of the hostel, there are various eateries, shops, and supermarkets to explore. Additionally, the Royal Museum of Fine Arts and Brussels Central Station are 1.2 km away. The rooms and dormitories at Urban City Centre Hostel have shared bathroom facilities and can accommodate single or bunk beds. For those interested in sightseeing, City Hall and the King's House are just 900 meters away. Brussels Airport is easily accessible within a short 15 km drive.
Pros:
– Convenient location near Midi Station
– Free WiFi available
– Close proximity to popular attractions like Grand Place
– Various dining options and shops within easy walking distance
– Shared bathroom facilities available for cost-effective accommodation options
Sleep Well Youth Hostel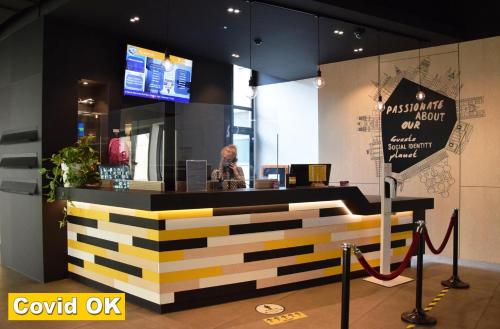 Sleep Well Youth Hostel is a conveniently located eco-friendly hostel in the heart of historical Brussels. Just a short walk from the famous Grand Place and Manneken Pis, as well as a shopping district, this hostel offers guests easy access to many attractions. The hostel features free Wi-Fi, a bar, terrace, and bicycle rental services for those looking to explore the city. Guests can start their day with a generous and varied breakfast before setting off on their adventures. The rooms and dormitories are functional and come with hardwood floors, desks, wardrobes, and private bathrooms. In addition to its amenities, Sleep Well Youth Hostel also provides a library and free table tennis facilities for entertainment. With its close proximity to a metro station and train stations connecting to various districts and sightseeing attractions in Brussels, getting around the city is hassle-free. Overall, Sleep Well Youth Hostel offers budget-friendly accommodations with great convenience.
– Central location in historical Brussels
– Free Wi-Fi
– Bar serving drinks
– Bicycle rental services
– Generous breakfast options
Jacques Brel Youth Hostel
Located in the heart of Brussels, just a 15-minute walk from the Grand Place and 2 km from the European District, Jacques Brel Youth Hostel is an ideal choice for budget travelers. The hostel offers a range of amenities including a buffet restaurant, terrace, and free evening entertainment. Guests can enjoy free WiFi access throughout their stay. The hostel also features a bar and snack bar for guests to relax and socialize. The rooms at Jacques Brel Youth Hostel are fitted with hardwood floors and provide ample closet space. Guests can choose between shared or private bathrooms which feature a shower and linen is provided. A wholesome bio breakfast is available each morning to start your day off right. Additional facilities offered include meeting facilities and luggage storage. Guests can also partake in various activities on-site or in the surrounding area. For those arriving by train, Brussels-Central Train Station is only 1.5 km away while Brussels Airport is located 15 km from the property (parking available at an extra cost).
– Convenient location in central Brussels
– Buffet restaurant offering varied dining options
– Free evening entertainment for guests
– Free WiFi access throughout the hostel
– Friendly staff providing excellent service
Other places to stay in Brussels
Family Friendly Hostels
Family Friendly Hostels provide a fun and welcoming environment for families traveling on a budget. These hostels offer accommodation options specifically designed to cater to the needs of parents and children, with spacious family rooms or private apartments available. They often provide amenities such as play areas, games rooms, and outdoor spaces where kids can socialize and engage in activities. Family Friendly Hostels also offer a range of services like cribs or baby cots, high chairs, and laundry facilities to ensure a comfortable stay for families with young children. Additionally, some hostels organize family-friendly events and tours to help families make the most of their trip together.
2GO4 Quality Hostel Brussels City Center
Located in the heart of Brussels, 2GO4 Quality Hostel Brussels City Center offers comfortable and affordable accommodation for travelers. The hostel features free WiFi throughout the property and a shared kitchen for guests to use. Rue Neuve is just 200 meters away, while Rogier Square is 300 meters from the hostel. The famous Grand Place is also within walking distance at only 900 meters away. Guests will find convenience with a supermarket and multiple shops located around the corner in the City 2 shopping mall, just 400 meters away. Public transportation options are easily accessible, with the nearest metro stop only 400 meters from the accommodation and a bus stop just 250 meters away. For those arriving by plane, Brussels Airport is conveniently situated 10 km from the hostel.
– Free WiFi throughout the property
– Shared kitchen facilities
– Convenient location near shops and supermarkets
– Easy access to public transportation
– Close proximity to popular attractions like Grand Place
Auberge des 3 Fontaines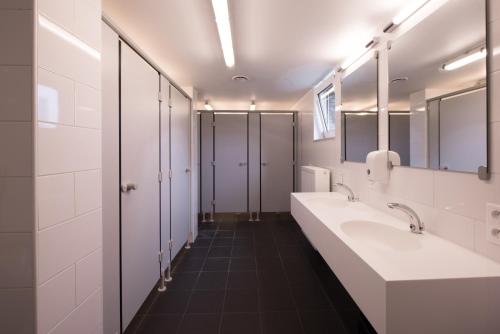 Located on the outskirts of Brussels, Auberge des 3 Fontaines is a youth accommodation option set against the picturesque backdrop of the Sonian Forest. The hostel offers functional guest rooms and dormitories with free Wi-Fi access in public areas. Guests can enjoy a range of facilities including a tennis court, a garden with a terrace, and an on-site restaurant where they can sample delicious meals or have a drink at the bar. Free public parking is also available for guests' convenience. The hostel is situated just 10.4 km from the iconic Grand Place and offers easy access to major train stations such as Brussels-South Train Station (12 km) and Brussels-Central Train Station (9.8 km). Additionally, Brussels Airport can be reached within an 18-minute drive. With tourist information available at reception, getting acquainted with all that Brussels has to offer is made easy for guests staying here. Furthermore, accessing the hostel via public transport is convenient as there is a bus station located directly in front of the Sports Centre and the nearest metro stop (Hermann-Debroux) is just a short 10-minute walk away. For those traveling by car, reaching Auberge des 3 Fontaines is hassle-free through easy access to major routes via the Brussels Ring and E411 highway.
– Set amidst the scenic Sonian Forest
– Functional guest rooms and dormitories
– Free Wi-Fi access in public areas
– On-site restaurant serving delicious meals
– Easy access to major attractions via public transport or car
Brxxl 5 City Centre Hostel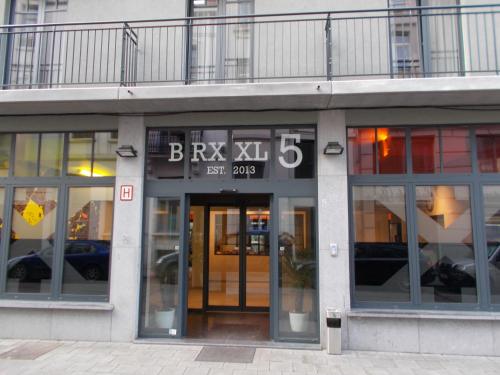 Brxxl 5 City Centre Hostel is a youth hostel located in the heart of Brussels, just 900 meters from the Stock Exchange. With its 24-hour front desk and inviting terrace, this hostel offers a convenient and comfortable stay for travelers. The famous Manneken Pis statue is only 700 meters away, while the Old Grande Place is an additional 300 meters from the property. Guests can relax in the garden or enjoy some fresh air on the terrace. The hostel is conveniently situated just 600 meters from Brussels South Station and only 150 meters from the nearest tram station.
Pros:
– Convenient central location close to popular attractions
– Friendly and helpful staff available around the clock
– Comfortable rooms with private bathrooms
– Free WiFi access throughout the property
– Additional amenities include a shared lounge and tour desk
Information about Hostels in Brussels
| | |
| --- | --- |
| 🏢 Number of Hostels in Brussels | 6 |
| 🥇 Average Review Score | 7.5/10 |
| 💰 High season average price | 1318 |
| 💸 Low season average price | 329.5 |
FAQ
Is it safe to stay in hostels in Brussels?
Yes, staying in hostels in Brussels is generally safe. Hostels prioritize the safety and security of their guests by implementing various measures such as 24-hour reception, key card access systems, and CCTV cameras. However, it is always important to take common precautions like keeping your valuables secure and being aware of your surroundings.
What amenities can I expect at a hostel in Brussels?
Hostels in Brussels offer a range of amenities to ensure a comfortable stay for their guests. Common amenities include free Wi-Fi, communal kitchen facilities where you can cook your meals, laundry facilities or services, social areas like lounges or bars to meet fellow travelers, and sometimes even complimentary breakfast options.
Are hostels suitable for families with children?
While some hostels in Brussels may not be specifically designed for families with children, there are many that welcome families and cater to their needs. These family-friendly hostels often provide private rooms or family dorms with en-suite bathrooms. Additionally, they may offer facilities like play areas or games rooms for kids' entertainment.
Do I need to bring my own bed linen when staying at a hostel in Brussels?
Most hostels in Brussels provide bed linen for their guests either free of charge or for a small fee. However, it's always recommended to check the specific hostel's website or contact them directly beforehand to confirm if bed linen is included or if you need to bring your own sleeping bag or towels.
Can I book a private room at a hostel in Brussels?
Yes, many hostels in Brussels offer private rooms as an alternative to shared dormitories. Private rooms typically come with either en-suite or shared bathroom facilities depending on the hostel. It's advisable to book these rooms well in advance as they tend to be popular among travelers seeking more privacy during their stay.
Popular Hostels destinations